POLICE NAB SUSPECT WITH NEIGHBOUR'S HEAD, HUMAN PARTS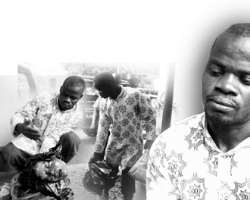 Femi Ade
When 31-year-old Femi Ade advised the parents of his neighbour, Shakirat, to bury her corpse at Era cemetery, Ijanikin, Lagos, they thought he was just being nice and sympathetic. But Ade had his ulterior motive.
A day after Shakirat was buried according to Islamic rites, precisely on June 4, 2010, Ade allegedly went back to the cemetery, dug out the corpse, decapitated her head, dismembered her body and put them in a polythene bag.
'I know the girl, her name is Shakirat, she lived in my area and everybody there knows me as Baba cemetery because I once worked there. I was the one that helped them get their space and every other thing in the cemetery. I know her grave. I just helped Baba Ikale to take the human parts to Ojo market,' he said.
Lagos State Police Command spokesman, Mr. Frank Mba, who gave an account of how nemesis caught up with the suspect on Monday, said Ade was flagged down by some policemen on Ojo Road while riding an unregistered motorcycle. He said the policemen demanded the content of the polythene bag.
'He initially offered the policemen N5, 000 as bribe and when they declined, he increased it to N10, 000 and eventually to N50, 000. But the policemen insisted on checking the content of the bag and they found items suspected to be human parts including, one suspected human head, two suspected human legs, two suspected human hands and suspected human intestines,' Mba said.
Mba also said that the police had visited the grave and were convinced that the human parts were taken from Era cemetery, adding that 'Ade also demonstrated how the corpse was exhumed.'
According to the police spokesman, suspected human bones and teeth were also found in the suspect's house by the police.
However, Ade, who claimed to be an indigene of Ijebu Ode, Ogun State, said that the content of the bag belonged to Baba Ikale who was his co-worker at the cemetery.
The suspect, who said he left the cemetery due to poor salary, added that it was Baba Ikale that measured the space and dug the ground for Shakirat's parents.
'He (Baba Ikale) said I should help him to deliver it to another man called Lanre, who sells agbo (native concoction), at the Ojo market. I did not know that the bag contained human parts. He promised to give me N1, 500,' he said.
But the axiom that 'liars do not always have good memories' became apt when Ade contradicted himself by saying that Saturday's incident was the second time he was delivering human parts for Baba Ikale.
'The first time he gave me N2,500. I did not know it was human parts until I got to Lanre's shop. I was not the one that dismembered Shakirat's corpse,' he said.
Mba however said the investigation was ongoing adding that, 'the Baba Ikale and Lanre are on the run, but we will get them. I also give kudos to those policemen that rejected the tempting bribery of N50,000. It shows that the anti-corruption crusade of the IGP is working in Lagos State. We will also locate the family of the deceased so that they can give their daughter a proper burial.'
However, a source, who claimed to have witnessed Ade's arrest at Ojo, said the suspect mentioned a market at Iyanoba where human parts were allegedly sold and also named some herbalists as patrons.
But Mba said no such market existed in Lagos, adding that Ade's case was an isolated one.