IBB WANTS ME DEAD BECAUSE OF HIS DIRTY SECRETS –BABANGIDA'S FORMER ,SECRETARY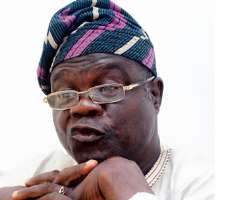 Maj. Debo Basorun (retd.) was the military press secretary to an ex-president, Gen. Ibrahim Babangida (retd.). In this interview with NIYI ODEBODE, he opens up on his ordeals in the hands of the former dictator and the death of Dele Giwa.
When did you leave the army?
I resigned on December 28, 1988. I joined the army as a private on September 1, 1967 and commanded two battalions during the civil war. I was an infantry soldier. My first station was the 17, Infantry Battalion Iwo Road, Ibadan. From there, I volunteered to go to the war front. I served with 72 Infantry Battalion at Asaba. I was in the Nigerian troops that crossed to Onitsha on the third attempt. After a few months in Onitsha, I was injured and brought back to Ibadan . From Ibadan , I was brought back to Lagos . In Lagos , I was attached to Rehabilitation Centre at Oshodi. From there, I was taken to the Third Marine Commando Division. In the Third Marine Commando Division, I served in the 12 and 14 battalions. In 1979, I was the spokesperson for the United Nations in the Middle East. My last unit was at Dodan Barracks. I was the military press secretary to Gen. Ibrahim Babangida.
Under what circumstances did you leave the army?
There was a threat to my life and that is what this brouhaha is all about. I was privy to some of the terrible things Babangida and Akilu did when we were in the army. There was this determination on their path to silence me. I was surprised when I saw my name in the newspapers two weeks ago. They said I was wanted. That is far from the truth. I resigned from the army.
You said you were privy to some information. What information?
My problem is 2011. Babangida wants to become president again. I am not saying I am the only person, but I am one of those who know that he is connected to the death of Dele Giwa. That is why they have been trying to kill me.
What has happened since your return from exile?
There had been two chiefs of army staff since I came back from exile before the present one. I went into exile in 1989 and the first time I came back to the country was 2006. I stayed briefly in the country and went back. When I came back fully in 2007, I met with IBB at a social function. I have been in trouble since, because I did not exchange pleasantries with him at the social function. He has been sending people to harass me. I have been ignoring him up to a point. I had to cry out in the media and grant an interview to a newspaper. Since then, they have been saying that they will deal with me for trying to spill the beans. Is it because of 2011? The man is so desperate now. His think tank has warned him that if I am still circulating about, there is every chance that I will abort his ambition. Come to think of it. What is important about Debo Bashorun? Is the army trying to tell me that since 20 years that I have left the army, there has been nobody who has gone on AWOL (absence without leave)? How many people have they advertised that they are looking for? When they started this nonsense, they said that I stole money before I left the army. If I stole money, let them hand over their documents to the police; the Economic and Financial Crimes Commission or the Independent Corrupt Practices and Other Related Offences Commission. Let me be tried in a court of law. I am not going to surrender myself to any of them. I am telling you authoritatively that Babangida has given instructions that once they grab me, they should poison me. I am not going to allow that to happen to me. Remember what happened to Chief Moshood Abiola. I want the world to hear what is going on. He has an ambition to be the president. One of his lieutenants know that I am about to publish a book. If I did not desert the army during the turbulent days of civil war, how would I desert when I was enjoying?
You have not explained how you left the army.
I was sent to do a dirty job in America in respect of Dele Giwa's death. I was sent to cover up what they did. I refused to comply. When I came back they threw me into jail. Newspapers reported it that time. I protested. The press was on my side then. I was shouting on the roof top that 'These people want to kill me.' They decided to send me to a unit in Makurdi, which was a Siberia then. I refused to go. Incidentally, the General Staff Headquarters, which was my unit (and Babangida's unit too), issued an order that whoever wanted to leave the army should volunteer. It coincided with what was happening to me. So I volunteered and resigned. I quoted their order in the resignation letter I sent them. But out of those who resigned then, I was the only person whose resignation was rejected. I contacted some attorneys. Alao Aka-Basorun was my lawyer. Femi Falana was his two-in-c (second-in-command). I told them I wanted to leave the army because I was privy to what the two people (IBB and Akilu) had been doing. I said that I was tired of it and did not want to be part of it any longer. My lawyers reviewed the law and said that there was nothing preventing me from leaving the army. So I resigned, but they rejected my resignation. I am getting close to 70.
What efforts have you made to get your entitlements?
On my return from exile, I visited with two ministers of defence to discuss my entitlements. They are Alhaji Kwankwaso and Mr. Aguiyi Ironsi. They are still alive and will corroborate my story. I met them in their Defence Headquarters offices in Abuja . The current Chief of Army Staff, General Danbazzau, was a brigadier and the Principal General Staff Officer in that office. He was even the person who ushered me into the office. He knows me very well in the army, apart from being my neighbour at Ojo Cantonment when he was in the military police. We exchanged pleasantries like old buddies. Then you might want to ask him where did this idea of a deserter come from? Even those who staged coups have been absorbed back into society. They are currently collecting their entitlements. Let Danbazzau show the world where any of them was published in the newspaper as a deserter. My problem is with IBB and Akilu. He should stay out of it unless he wants to drag the army into the murky waters of politics.
If he has something against me, let him bring it into the open. He initially said I stole money when I was in the army. Because of that I have instructed my lawyer, Femi Falana, to drag him to court. We have filed a law suit against him for libel. This was somebody who professed to submit to the rule of law. Why can't he wait for the final decision of the court before placing the advertisement? If they come to me and want to arrest me, they must be ready to arrest a corpse. They cannot arrest me. I would rather die. I have not left my house. I stay in my house all the time. If they want to arrest me, they will eventually arrest a corpse. I do not have a gun. They have guns. But civil rights society in America has sent us cameras. My neighbours have cameras. They want to see what the army will do. I am ready.
Why did the army say you are a deserter in spite of the fact that you resigned?
Even if I were to be a deserter as claimed by Danbazzzau, which is not true, can he beat his chest before the public to say that there has been no deserter since I went into exile over 20 years ago? If he denies there is no deserter, then we will expose him. Can he tell us how many of them have been published in the papers? You can bet that there is none. That should tell Nigerians that the smoke they are seeing is as a result of fire from IBB. What does Danbazzau want from a nearly 70-year-old man? Is he planning to capture the world which would be impossible without Basorun participating? Danbazzau should not be allowed to drag the name of the army in the mud but if he chooses that route, again that will be his choice because Nigerians will not fold their hands and look away while the country is plunged into a maelstrom of the dirty game of politics. Why their desperation? Of course, 2011 is the issue. Babangida has assembled a think tank of south-westerners who have warned him of my tell-all book that is about to be launched. They warned him that if I am allowed to launch the book, the expose contained there will totally destroy his chances of even gaining a foothold any where in the South-West. Those who even staged coup d'etats and fled the country for years were never classified deserters. Their names and pictures were never published in the dailies. They did not only come back and get re-absorbed into the Nigerian society, but apart from their benefits which were paid in full, all of them are collecting pensions every month. The country realised that theirs was a political problem brought about by a dictatorship forcing them to flee the country. That was exactly what happened in my own case. Why being singled me out?
What do you see to IBB's call that Abiola should be immortalised?
Is it not shameful at this late time in the day for IBB to now be clamouring for immortalising Abiola? What does that tell you about him? He is desperate.
What do you think of Babangida's presidential ambition?
That is a disaster waiting to happen. He is just coming for a vengeance. People that have criticised him will be in terrible trouble. What did he leave that he was coming to take? I know him very well. I was close to him. I was involved in his life. I was involved in his wife's personal life. If he comes back, the county will be sold.
What was in your mind during IBB's transition programme?
I never believed him. In fact, I told Chief Abiola, God is my witness, that he should not rely on him.