Actress, Faithia Williams Celebrates Birthday in Style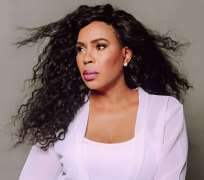 Actress, Faithia Williams has thanked all who have prayed and supported her as she is a year older today.
The actress who could not hide her joy took to social media to tell the world what God has done in her life as she wishes herself a happy birthday.
In her words, 'It's finally my day! If I start to write what God has done in my life I would not be able to write it all here. I just want to thank him for keeping me till this particular moment. It's been a journey, one that wouldn't end anytime soon, one that I am glad to have shared and to keep sharing with you all. Happy birthday to me. Thank you for the love, prayers, support and well wishes. I love you all. I can't keep calm!
'Super grateful for life, for happiness, for my fans and for everything good and beautiful! Thank you Lord! Another year in the Bag! It only takes God's grace and Mercy. This I am grateful for. Happy birthday to me.'