SOUTH AFRICA DEPORTS ARGENTINE FOOTBALL HOOLIGANS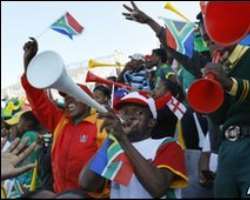 South Africa has deported 10 suspected Argentine football hooligans who police say were planning to disrupt the World Cup.
The men, part of a larger group of about 80 fans, were arrested at Johannesburg airport and found to be on an entry blacklist.
South African police have said the move shows security preparations ahead of the games are paying off.
The World Cup – the first held on the African continent – begins on Friday.
The men were said to belong to the country's "barras bravas", organised groups renowned for football-related violence.
They were detained on Sunday after travelling from Argentina via the Angolan city of Luanda, and deported on Monday.
At least two of them were group leaders, and another was out on bail for murder, according to police.
'Loutish'
"Intelligence indicated that these persons would commit acts of public disorder, engage in acts of violence and provoke conflict with certain fans of opponent teams and other groups from Argentina," a police statement said.
"They are known to have a history of being involved in crime and antagonising local law enforcements," it added.
In Argentina, there have been more than 240 football-related deaths since 1924, according to Salvemos al Futbol (Let's Save Football), an Argentine non-governmental organisation.
In the past, the country's club directors have been accused of fomenting and funding the barras bravas.
At a news conference in South Africa last Tuesday, Argentine coach Diego Maradona denied links to hooligans, following reports that a group of them had travelled with the team.
The next day, Argentine authorities gave South Africa a list of 800 known hooligans, saying it had "no interest in seeing these people travel to the finals".
Police in South Africa are not used to dealing with football-related violence, which is rare in domestic games in South Africa.
In the statement, they said that they would not tolerate "loutish and violent" behaviour during the tournament.
Last month, a group of English hooligans tried to travel to South Africa via Dubai, but were stopped by South African and British police, according to South African Police Minister Nathi Mthethwa.
Up to 3,200 English fans known for disruptive behaviour have had their passports held by authorities to prevent them travelling.