EMPRESS NJAMAH IS A THIEF---TIMAYA ACCUSES EX. LOVER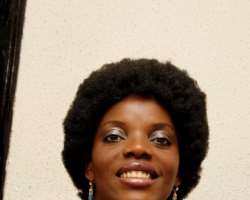 EMPRESS NJAMAH IS A THIEF. TIMAYA
The last may not have been heard about the crumbled love affair between the Nollywood actress, Empress Njamah and one of the hottest artistes in Nigeria, popularly called Timaya. The award winning Nigeria singer and songwriter, Timaya in a recent interview with a journalist erroneously called Empress Njamah names, referring to her as a thief who he gave some money to purchase a car only for her to squander the money on frivolities. He so labeled her to the extent that the journalist who was not going to dig int deep into their strained relationship was left with no option than to further press him to open more on the crack amorous affair and why she was referred to as a thief.
"Empress is not that important to talk about. I gave her money to buy a car, she didn't buy it, she was always driving my car before we broke up and I went to collect my car back not the money I gave her to use in buying the car. So, she is like a thief. We were dating and I gave you money to buy a car and you didn't buy it instead you were using my car and since we're not dating again she should be able to return my car now. During our courtship, I once told her that I don't like feeling like a fool. Nobody likes to be talking for a suck, she took me as one but I fought it" Timaya revealed.
Though, Empress who is said to have remained tight-lipped over her liaison and the brouhaha that follow shortly after her break up with Timaya, we learnt, got a new car a few weeks after her separation from Timaya and the day she was to celebrate the new wonder-on-wheel, Timaya and his thugs were said to have stormed the church, abused the pastor and harassed people in the vineyard.
One of close pals of the highly controversial couple, Empress & Timaya exclusively had a chat with www.nollywoodgists.com on the on-going love scandal about the estranged lovers. The source wasted no time to support Empress' cause.
"Calling Empress a thief is derogatory and it's nothing but an attempt to assassinate the character of the beautiful actress, Empress. Empress is a Nollywood actress who is quite doing well, fine; they both might have dated before and in the course of this might have given each other gifts or anything, that, of course does not warrant them calling each other's names. Over what! There's nothing absolutely wrong in one driving his or her lover's car. What has he (Timaya) done that is new under this heaven? Is he the only man that will give his lover money to buy a car before? How much did he give to Empress that is making him to bark like a mad dog…? Well, to my knowledge, the money giving to Empress was not enough to buy a car of her choice, so she fixed the money and started saving towards getting a car of her choice without bothering her so called lover. Timaya is nothing but a kiss and tell person who still needs to be fed with baby milk so as to get some nourishment do evelop his sense of maturity." She concluded.
Before the advent of Empress/Timaya's affair, if we flash back, Empress was once accused of an act of theft called shoplifting caused by a disease of the brain otherwise known as Kleptomaniac. The story which was highly splashed on the pages of tabloids and other newspapers, we gathered might have being a lethal weapon Timaya is now using to assassinate the good name of the beautiful screen idol, Empress Njamah who has made unprecedented success in the make-believe industry.
Meanwhile, Timaya who is set to release his forth album in a couple of days time has titled it 'Rebirth'. Does that now mean that the Bayelsa born sensational artiste is now a new creature entirely? The answer will be known when the album is out.