Actor, Ik Ogbonna Celebrates his 'Personal Ashewo'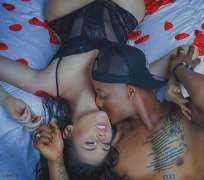 Nollywood actor, IK Ogbonna, seems to have changed completely from the kind of man he used to be and that is because he has found true love who has turned to be his wife.
Ik could not hide his feelings and happiness for the woman who has brought so much joy for him and has been able to accept him the way he is.
Takeing time to celebrate his wife, Sonia, who turns a year older, he had to appreciate her for abandoning her culture and moving over to Nigeria despite how tough things seems to be for her at some point.
"Happy birthday to a damsel who abandoned her glorious youth to build and grow with an ambitious bald headed stubborn man like me .. I have learnt a lot from you @sonialareinaa and I have never and will never take ur wisdom for granted. You are not just a blessing to me and my son but to anyone that's willing to listen to you . You thought me how to stay positive.. and encouraged my hustle."
"I would never try to change you or judge u coz u are perfect the way you are. And YES I know it's not easy leaving a completely different culture , style , believes and way of life and coming down here to embrace all we have to offer ... I have indeed watched u struggle to balance even tho u try to hide it but hey .. I am glad and proud of the woman you have become my MOTTO still remains - let them talk and let me love my imperfect is a joke when it comes to u and without pressure we counting years .. remain U , remain my wife , my side chick , my personal ashewo, my crush , my nigga , my home girl and let's huddle this life together. Happy birthday bebolinna @sonialareinaa YOU KNOW U ARE BEAUTIFUL AS IN DROP DEAD BEAUTY .. A MASTER PIECE BUT UR HEART IS EVEN MORE BEAUTIFUL," he wrote.