HOW EMEKA IKE BECAME LAST GUS CELEBRITY STANDING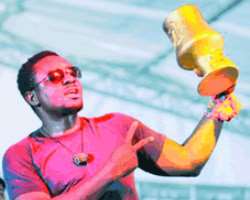 Emeka Ike
Emeka Ike, Nollywood's ace actor last weekend got his name written in the Gulder Ultimate Search history book as he became the first winner of the GUS Celebrity Showdown defeating Funke Akindele, Weird MC, Chioma Chukwuka, Muma Gee, Bob Manuel Udokwu, Daddy Showkey, Obesere, Darey Art-Alade and Princes in various games of wits and strength to clinch the N7.5 million star prize.
Last Saturday, media men, entertainment buffs, friends and fans of the celebrities gathered at the expansive, pristine and serene La Campagne Tropicana Resort, Lekki for the presentation of the winner of the 11-week reality TV show.
Though the waiting for the winner to emerge seemed like forever but there was no dull moment waiting.The audience was anxious to know who would be N7.5 million richer that night. There was a performance from the Sharp Band and then the celebrities who had earlier been evicted from the show took time to relieve their experience. Also Muma Gee, Weird MC, Obesere, Banky W ( the MC) and Princess performed.
Inside the camp, the trio of Darey Art-Alade, Emeka Ike and Daddy Showkey keenly slugged it out trying to beat each other to the prize money. The final and ultimate task which was to determine the unltimate celebrity was for the three celebrities to find the Golden Goblet buried in the sand on the beach . They were to dig according to specifications and measured distances to locate the Goblet. But first, they had to construct a ladder to be able to access the shovel. Without wasting time, Daddy Showkey and Darey constructed a ladder and swung into action. Emeka seemed not to be getting his bearings as it took him some time to build the ladder.
But like the moonlight tale of a race between the tortoise and the hare, Emeka though slow, was steady in the race. He soon finished with the construction of his ladder.Emeka soon joined Dare and Showkey measuring his shovel five lengths away from the red flag as directed by the hostess, Genevieve Nnaji.
Within minutes of digging, just beside Darey, Emeka hit the treasure pot and dragged out the black box containing the Golden Goblet. Emeka shouted in excitement and Darey watched in disbelief. Daddy Showkey was upset. With his find, Emeka Ike got his name into the Gulder Ultimate Search history book and became N7.5 million richer.
Still basking in the euphoria and elation that comes with winning , Emeka said in an interview that he was happy to be the 'last celebrity standing'. He promised to be a good ambassador of the brand.