BASKET MOUTH TAKES ANOTHER STEP HIGHER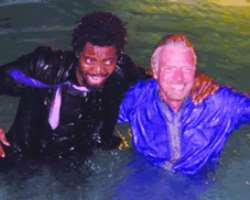 Basket Mouth and Richard Branson
Nigeria's biggest comedian at the moment, Basket Mouth has gone a full circle. We knew him as the guy who started comedy at the University of Benin as an undergraduate and rose to the top of his game by being extremely creative.
He first became one of the funiest, then became street and corporate favourite. After that, the first comedian to be Glo's Ambassador and penultimate week, he dined with one of the richest men in the world, Richard Branson in Ghana .
He was the MC on the maiden flight of Virgin in Ghana. When Richard Branson tried to push him into the swimming pool as his weird custom, Basket dodged him and Branson landed inside the pool.
He invited Basket to join him and he did but not until he dropped his phones and wrist watch. They later shared jokes and exchanged contact addresses we learnt.