SULTRY ACTRESS, MONALISA FALLS IN LOVE AGAIN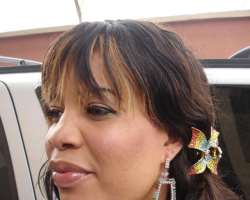 The certainty of Monalisa, one of the beautiful faces that rock the Nollywood industry in Nigeria, returning back to her erstwhile hubby, Richard Dejo is chancy going by what is currently going on in the life of the mother of one, Monalisa.
Though, Monalisa's relationship with her new lover, Harry who is said to reside on the Island is still kept as secret, however, her friends who know about the secret relationship have come in the open to reveal their open-secret love tales.
If you can recall that few months after the separation of the actress and her ex. husband, Dejo Richard, she was alleged of dating one Island big boy. The story made news headlines to the extent that Monalisa herself came out to debunk the flimsy lies on her person as she put it.
Latest revelation now has it that Harry is actually the guy who was alleged to be dating her but the time the story came out, there was nothing amorous between them until recently when they both were said to have thought of consummating what they started on a platonic ground a couple of months ago.
"While Mona is silent about her new affair is because of her relationship with Glo, as a brand ambassador, she is expected to keep out of scandal and ward off all sorts of nasty reports on her person. Harry has always been there for her, in fact, shortly after her marriage with Dejo severed; it was Harry that had been a very good friend and confidante to her throughout her trying periods." A close friend of Mona told us.
As you are reading this, Monalisa is enjoying the best of times with her new lover, though, their secret nest is yet to be discovered, however, there is strong indication that their affair more than ordinary due to the way they were said to act when they see each other. All effort to reach Monalisa to comment on her relationship with Harry was aborted as she didn't pick her calls.