Won't leave him for another girl-Actress Sola Kosoko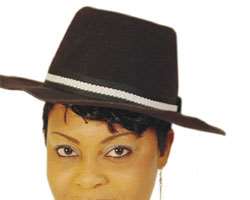 What was it like growing up under the watchful eyes of your actor father?
I would say the experience exposed me to some of the happenings in the movie industry. This is because while I was growing up, I met a lot of actors. As you know, my father is an actor and he had even been acting before I was born.
Okay, could you tell me a little about your background?
I was born and bred in Lagos. I had my primary and secondary schools in Lagos. I hail from Isale Eko in Lagos State. I am a descendant of the late King Kosoko. I did a course in Computer Studies and I later obtained a diploma in Industrial and Labour Relations from the Olabisi Onabanjo University, Ago-Iwoye, Ogun State. Thereafter, I put in for a degree in Sociology in the same university. By the grace of God, I finished in 2009 and I will be going for the national youth service in July.
Your late mum was the first wife of your father; so, tell me what it means to come from a polygamous home?
Frankly, no one would like to live in a polygamous family. Everybody would like to grow up only with his or her father, mother and siblings. But, as I said, my dad is from a royal family, so his being polygamous is allowed. But I really don't know his reasons for marrying more than one wife. And, of course, I cannot speak on his behalf. Nevertheless, I would say it has been well so far. We haven't had any bad experience because we live like one big family. We hear a lot of things happening in some polygamous homes, but it is unlike my own family. Of course, there will be quarrels at one time or the other, but it is unlike what you hear in some other polygamous home. And we all have always lived together.
What do you miss most about your mother?
I miss everything that one would miss in a mother. You see, I lost my mother when I was 13 years old. So, I can't really pick one particular thing. But I miss her very much.
When was that?
That was some years ago. You want to know my age (general laughter).
In what circumstance did she die?
It was during childbirth.
What is your position in the family then?
I am the third child from my mum because I have two elder ones, a male and a female. I am also the third from my father and I have younger ones too.
At what point did you begin to feel the absence of your mother?
I would say I didn't really feel her absence so much at the particular time I was supposed to because my father was around. That was when I gained admission to the university and I had to be going from Lagos to Ogun State. I felt so lonely going away from home. I remember that my dad drove me to the university the first day I went to school.
But I guess you should be a big girl already then?
It doesn't matter because I have lived all my life in Lagos. My eldest sister went to the University of Ilorin while my immediate elder brother went to the Lagos State University, Ojo. As you know, parents, especially mothers, would always take things like palm oil and such stuff to their children in schools; but in my own case, it was my father. Of course, he couldn't bring such things, but he was always coming to see me.
Was your stepmother not coming to see you?
She too used to come, but not as much as my father was doing.
What is the relationship between you and her?
We have good rapport, and she is good.
So, when did you become a professional actor?
It was in 2002. The first person that called me for a job was Mrs. Idowu Phillip, alias Mama Rainbow, when she produced Alamu seniyan in 2002; the same year, Uncle Taiwo Hassan, alias Ogogo, called me for Tolulope; in 2003, Oga Bello called me for Abesekele and Muyiwa Ademola also featured me in Ori. Actually, it was my father that forced me play the role in 2002. Personally, then, I felt like my father is an actor, so why should I be an actor too?
So, you never wanted to be an actor?
Though I love acting, I was thinking of coming into the industry after my university education. It, however, came earlier than I had expected.
But one would have expected your dad to be the one to feature you first in any acting role.
Of course, he did. I first appeared on the stage when he did Olorire in 2002; and it was after my appearance in Olorire that other people started calling me.
It is often said that you wouldn't have got to this height in so short a time if not for the fact that your father is a big player in the industry. How true is this?
Definitely, ola abata ni mu odo san; ola baba omo ni mu omo ga. Yes, in the name of my father, I am an actress. Yes, it is also true that it is because my father is in the industry that I got to this height in a very short time. But beyond this, I am also good at what I am doing. If I was not good at it, I wouldn't be where I am today.
What else would you have loved to be doing if you were not an actor?
I would have loved to be a lawyer or a broadcaster. In fact, I made some efforts towards that. You will recall I told you I did a diploma in Industrial and Labour Relations before I entered for my degree course in the university. I was supposed to use that course to cross either to Law or Mass Communication. But I was later told that Industrial and Labour Relations was not an art course, so it was not easy for me to cross to either of the courses.
How many movies have you produced so far?
I have just produced my first movie and it will be out soon. It is a must-watch for every home.
Who sponsored the movie?
My father, my fiancé and I.
Why did it take you long to come out with the movie?
I was in school and I can't do two things together; otherwise one will suffer. There were times I would get big jobs, but I won't be able to do them because I was in school.
When you read bad reports about your father, how do you normally feel?
You see, when you read some bad reports, you would know very well that they can never be true. But, you see, I don't just want to talk about such reports now.
Okay, it was reported sometimes ago that you broke down in tears when you learnt that Muyiwa Ademola was getting married.
(Raises her voices) It was rubbish! It was a lie! I have not seen anything of such. Did you read it and are you sure?
Yes. So, are you saying…
(Cuts in) I attended his wedding. I was happy because nothing happened between us. Usually, people won't believe one is saying the truth. But between God and me, nothing happened between us.
Are you saying you never dated him?
I never did.
How close are you then?
We are very close.
But do you know there is no smoke without fire?
Yes, there is no smoke without fire, but people misinterpret things a lot. Have I ever been caught sleeping with him? So, how could anybody think we are dating? Have I ever been caught kissing him? So, why would anybody again think that we are dating each other? Muyiwa has always been my very good friend.
Does it mean he does not have the kind of qualities you want in a man?
I have not said so. He is handsome and good-looking.
So, what is wrong in dating him?
For one reason or another, I have never thought of getting married to an actor. So, if I don't have the intention of getting married to an actor, why would I date him?
But dating him doesn't mean you will get married to him?
Personally, if I am dating a man, it has to be for something, probably marriage. Why will I be dating a man for dating sake? What do I stand to benefit?
So, how many relationships have you been in so far?
One thousand and one!
Can you be serious?
Your question is funny!
Okay, why can't you date an actor?
It has never been my wish. I am an actor, so I can't get married to an actor because we won't enjoy our marriage. When people know both husband and wife, they will always say all sorts of things. I have heard enough of untrue stories about other people.
But your dad is married to an actress, and I don't think he has any regrets.
One man's meat is another man's poison! There are some things I may want to copy from him, but definitely not something of such.
But I am sure there must be a cogent reason why you will not like to get married to an actor.
Maybe if I had met an actor that I truly love, I would have married him. But somehow, I met my man when I was just starting to be a professional actor. So, I don't have any reason to be looking for an actor to date.
So, you have never dated any actor.
Never! And I am not being boastful.
What have you learnt from your dad's experiences now?
I have learnt a lot. He is plain, liberal, rational and considerate.
But people say he loves women?
I don't agree because it is 100 per cent lie! What I am saying here is the absolute truth.
But is it possible for an actor not to love women?
It is very, very possible.
How long have you been going out with your fiancée?
Very long!
When and how did you meet?
Let's leave this to my wedding day
How soon?
Very soon, but I am not going to talk about him. Wait until it is time; he is not yet my husband.
Is he a Christian or a Muslim?
I say I don't want to talk about him, yet you are using tricks to get the information about him.
Are you a Christian or Muslim?
I am a Christian.
I thought your father is a Muslim because one of his names is Rafiu.
He is a Christian, but we are from a Muslim background. One thing about my family is that we are not dogmatic about religion. I have always been a Christian and my father too is a Christian, but most people don't know. I have a Muslim name. His father was a Muslim, but his mother is a Christian. But he has been going to church since when he was a child.
You come across as a simple person and I wonder if your partner has not been taking advantage of you because of this?
If he is truly your man, he will never take advantage of you.
But if you find him cheating on you, what will you do?
If I find him cheating on me, what will I do? Well, I will handle it with maturity. And if it true that he is cheating on me, I'll not leave my man for anybody anyway.
Even if you have all the facts to nail him?
Is it not a men's game? He has never done it to me.
You might not know.
I might not know, but I know he has never done it to me.
How are you so sure?
Forget that! Maybe I will tell you off record. But if I find out that he is cheating on me and I am very, very sure (pauses)… I will remain in the relationship. Where am I going to? As I said, I can't leave my man for any woman. Normally, African culture permits men to marry more than one wife, and that is why my dad got married to two wives. My dad married another wife after my mum, so why didn't she leave my dad?