Paul Okoye and Wife Dedicates Their Twins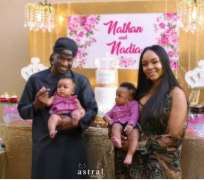 Paul Okoye and wife, Anita, are very happy for God's blessing upon their lives as they dedicate their twins, Nathan and Nadia.
The couple took several pictures during their children's dedication, alongside their first son, Andre.
Paul and wife were looking very ravishing as an after-party was held and there was enough to eat and drink as the excitement was very visible.