I Remain Grateful To My Ex-husband –Kefee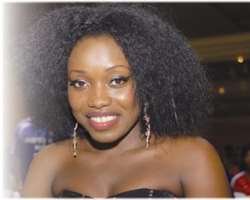 Many would have expected her greatest regret to be the crash of her marriage with Alec Godwin, boss of Alec Records, but Kefee has no such regrets and the music industry is a high calling to which she is sold to.
This lover of shoes, reveals that she remains eternally grateful to Alec for his guidance, among other people and the good Lord has been her guiding light.
"The good God was my guiding light who used many people to help me become who I am and while I remain eternally grateful to all who contributed including Alec, I am confident that the guiding light would have made a way that no man could have claimed to be the architect," she said.
"I feel elated; I stand on the hallowed and sacred grounds of an irrepressible and unwavering fan base in my expression of joy on this award of reward. Indeed, my profound gratitude goes to the people without whom this would never have been and to you that believed in me, thank you and thank God!"
The the 'Branama' singer, won the award for the best collaboration at the Hip Hop World Awards 2010 at the Exhibition Hall of the Eko Hotel and Suites last Saturday.
Meanwhile, before the event, Kefee Obareki had said when asked about her nominations and chances of winning, "I don't know what wining means to you but for me, it is the ultimate results made of purpose and as such I can only continue to concentrate on the purpose than the reward and as long as I do concentrate on that and produce results, I am winning."
The newly repackaged and beautiful singer, who now runs Branama Afrique, stated that her management company engages in aggressive defining of the African persona.
In her words: "Branama Afrique, which means show off Africa, is a brand that is engaged in the aggressive defining of the African persona. It is the definition of our expressions, our strength, panache, beauty, values. It is simply cultural reloading."
Looking back at how she began her journey into the world of music, the Sapele-born singer said she used to write lyrics on the blackboard at some point in time and would see herself as a powerful musician, eventually, things started picking up and she appreciates the work of God in her life.
"Music was a church and choir thing from the very onset and it was fun writing lyrics on the chalkboard in class, singing, dancing and just pretending to be a powerful singer. We were invited to other churches, competitions and parties. We used to be a duo but we pursued our different goals and aims because it was only necessary that our individual goals and life pursuit define our co-existence. As we grow up in life our values change and the things we held so dear may no longer command primary attention. So, these were the reasons we both had to move on, we did not part ways, we only moved on to our life definitive purpose where we can have greater fulfilment for the purpose of our creation," Kefee said of her incursion into the entertainment world.
Continuing she recalled: "It was said by one of the greatest philosopher musicians to have graced this earth, the late Bob Marley, 'in this great future you can't forget your past'. So, tell me, how can I forget those fond memories of being the smallest in the choir? How can I forget the first Sunday I was allowed to do a verse in a song in the church? How can I forget the sweetness of the spiritual freshness that our musical talent was nurtured in? I have fond memories of my beginnings and these memories I hold so dear."
For Kefee, being nurtured in a humble and disciplined home has greatly affected her personality and her core values as a person and an entertainer.
"Being a lady nurtured in a home by my parents, where love, humility and discipline were the hallmark of our growing up, it was only natural for me to bring these values to bear and I never lost sight of who I was that first I am a child of God and that all that we have was truly given by Him. So, a life of devotion to God helped me daily to handle things be it fame or name wisely," she stated about how she has been able to manage stardom.
Early in the year, she celebrated her birthday in style, dragging several Nigerian artistes to orphanages and old people's home, where they all wined and dined as they felicitated with the beautiful singer.
Kefee said: "Truly, I must say I was indeed overwhelmed by the tremendous outpouring of goodwill, love and honour, indeed I felt their presence was a kind of morale booster, a kind of vote of confidence on my music and works so far. It was a long and fun filled day as we visited a home for the elderly and an orphanage where we donated flat screen TV, food and clothes, sang and danced with them. Indeed, their presence reinforced in me a strong determination to always give more to humanity than ever before and my music is my carriage to achieving this determination, for truly, no one ever receives honour for what he receives but what he gives."
Kefee concluded by saying that death is a pain that leaves with so much grief and such is what DaGrin's death has caused.
"Death is a pain that leaves with us so much grief. DaGrin's death brought into focus that life is essentially ephemeral and that while here on this side of eternity our lives should be lived for posterity, for the impartation of mankind, for we truly do not live except we live for others," Kefee said.