I define my roles in movies – Khabira Khafidipe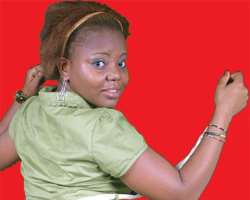 Khabira Khafidipe is an Ikereku, Abeokuta, Ogun State born actress. She has made a name for herself featuring in almost all the Tunde Kelani's Mainframe Productions , including "Saworoide", 'White Handkerchief", "Aguguiwo", 'Arugba" among others.
For two years now, KB has stayed off the screen. She explains her reason for doing so.
On missing on screen.
I'm working on my new project, a Yoruba TV programme, which I hope to flag -off soonest. My mentor, Yinka Demand, is helping to anchor the programme. I'm also working towards unveiling another project, which has to do with African fabrics, an introduction to African print mixed with fabrics like "Chinos" and "Lino" . Currently, I'm developing and creating styles which will soon be unveiled. That's what I'm working on at the moment.
My course of study!
I read Mass Communication at Olabisi Onabanjo University, Abeokuta, Ogun State. I graduated in 2004/2005.
Abandoning journalism!
Not really. What I was taught while I was in the university was enough to inspire me into journalism profession. But my background as a dancer, coupled with the kind of people that I was privileged to mingle with, while I was coming up, made me settle for something else.
But I have done a couple of TV programmes, and my latest project took about five years to package. Also, I have a plan to go back to school to study more courses on communication as a way of shaping my future.
How I found myself in the world of make-believe!
It all started in 1996/1997, when the Mainframe Productions owned by renowned film maker, Tunde Kelani produced
'The White Handkerchief", a 15 minute production. Then, I had a serious passion for the arts. On one particular occasion, I followed my elder sister to the set, where they were shooting "The White Handkerchief".
That fateful day, they were shooting a choreography scene and because I like to dance a lot, my sister requested that I should join the dancers and give it a trial. I obliged her request, and that attempt earned me a role in that short film.
And because of my commendable performance, when the production team of Mainframe stormed Abeokuta, in 1998, to shoot 'Saworoide' a historical production, I was invited as one of the cast of the film. There and then, when it was obvious that the lady that was supposed to play the lead character in the film was not going to be available, I was asked to play the lead role.
After that film was released, it was a bomb for me. That was how I got into the world of make-believe. I started very early in life and I featured in "The White handkerchief" while I was in the secondary school, just as I also featured in "Saworoide" immediately after my school certificate exams.
Saworoide' created a vivid picture of an African society in not so modern terms. The dialogue in the film is extra-ordinary and the script superb. It's full of life and culture.
After 'Saworoide", I went on to feature in "Aguguiwo" also produced by Mainframe, which served as a concluding part of "Saworoide". Thereafter, I featured in "Campus Queen" and "Obirioluja" produced by Yemi Amudu.
To some extent, my fans liked the character I played in that movie as everybody was talking about the film then. Apart from these movies, I was also in "Iwalewa" a name that stuck to me courtesy of my fans because of the role I played in that movie. So far, so good, the journey has been memorable.
Stage fright
Right from my secondary school days, I have been used to the crowd, following my role as the leader of my school's cultural troupe. Then, I was the shortest in the group, and most times compelled to adorn the front stage. I was not frightened because I knew what entertainment was all about. I was used to facing the camera and all that.
Again, our handler then, taught us how not to have an eye-contact with the audience to avoid losing concentration.
My parents' decision
I was lucky. My parents never discouraged me from going into acting. I followed what gave me satisfaction.
Acting and me
Yeah, acting have been good to me. But like I have always said, it has its negative and positive aspects. The negative aspect of it has caused me my privacy. I would have loved to be myself, completely taken away from the public scrutiny.
But all the same, through acting, I have touched so many people's lives. Today, people love seeing me on screen. And I love what I'm doing because it gives happiness.
Any scandal?
None, I have been asked this question over and over again, but my response have always been in the negative. I don't know whether it's happening to other actresses. For two years now, I have not featured in any movie. The last film I did was "Arugba" produced by Mainframe. I have been pretty busy, working on other projects, including my new TV programme. I have little time to show my face on screen. May be, that's why I have not been a victim of scandal.
Two years off the screen!
Yeah, two years off the screen. I don't want a situation where I begin to owe my fans and family members some explanation, especially my father. My parents would not want to watch me in just any movie. If they want to watch me, they really want to watch me and feel satisfied with the performance.
So, given this situation, before I involve myself in any movie, I want to make sure it's worth the appreciation of my fans and family members. My staying off the screen for two years now is deliberate.
Again, the last four movies I featured in, are yet to be released. Normally, I feature in one or two films per year, aside Mainframe productions. I decided to put a hold to my acting career until two out of the four films are released into the market. I choose my roles and define how I feature in movies.
What does Khabira stand for!
"Khabira," attests to greatness. Khabira is derived from Khabir, an Islamic appellation of God, meaning "Great One."