Vivian Ejike's Private Storm shocks Nollywood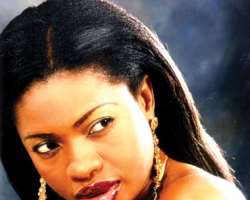 Following the huge success recorded with her last movie, Silent Scandal, which equally snatched a joint plaque at this year's AMAA, sexy, stylish and meticulous female film producer, Vivian Ejike, is poised to drop another bombshell for Nollywood, movie buffs and her teeming fans and followers very soon.
The former top banker who cherishes rare and exotic titles for her numerous works, calls this one- A Private Storm. Can you beat that? Written, passionately produced and funded by Miss Ejike, a French graduate from the University of Port-Harcourt, the star-studded flick has an admixture of leading thespians drawn from both Nollywood and the emerging Ghana film industry also known as Gollywood. Leading the galaxy of stars that dazzled in the movie, which thematically centres on domestic violence and abuse are the duo of Ramsey Noah and Omotola Jalade-Ekeinde. Also on board the big budget movie are popular names such as: Ngozi Ezeonu, Ufuoma Ejenabor , Ghanaian import, John Dumelo and a host of others. Shot and directed on several choice locations within and outside the Lagos metropolis by the duo of Lancelot Imasuen and Ikechukwu Onyeka, A Private Storm, promises to be a generational change for Nollywood when eventually released.
"In fact, A Private Storm is a movie that is bound to take you on a roller coaster ride of emotions. It will make you laugh, cry, sad, mad, happy, love, hate, and then.... you'll want to love all over again," said Ejike.
The movie which was shot with the best technical equipments, courtesy of Ejike's Purple Pine Production studios, is an expose on domestic abuse and violence, an unspoken evil, which ravages our society today and the silent acceptance by victims.
Speaking further, widely-traveled Ejike, from Nri, Anambra State disclosed that A Private Storm will be premiered in major cities around the world before finally being released on DVD. "I can assure you that fans and movie lovers are in for a thrill with A Private Storm," she added.
A quick glance at the synopsis of the coming blockbuster further reveals this exciting scenario. "Handsome, young, suave and successful, Alex is a total package.... with a massive grudge!! On the other hand, pretty, young and sassy Gina is living every girl's dream. Engaged to the most eligible bachelor, she does seem to have it all.....However, beyond the picture-perfect lives of Alex and Gina, lie a huge ego, a massive insecurity, a monstrous rage, a fierce passion, an unconditional love and a determination beyond reasonable limits, all of which set in motion, the rapid wheels of an impending storm, whose rage could destroy all in its path."
Also gathered that Miss Ejike and her crew intend to storm some major international film festivals with this great make –believe work of art this year. All these are aimed towards giving the film the international appeal and attention that it truly deserves, before releasing it on shelves.