THUGS KILL POLICEMAN, FAMILY NARRATES ORDEAL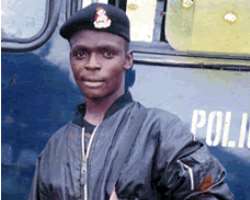 The late Ogunfile
Oladipupo Oluwagbenga Ogunfile was 32 years old and a policeman who started his career with Nigeria Police nine years ago. He served in Kwara State before his transfer to Isheri Police Division, Lagos in December 2009. A little while ago, Oladipupo did his Corporal course, at Iperu in Ogun State preparatory to his promotion to a higher rank.
But while he was waiting for signal to be confirmed, tragedy struck as he was murdered by suspected young thugs in the Aiyetoro Community in Ajeromi Ifelodun Local Government Area of Lagos while going to visit his son.
Ironically, Oladipupo was the son of a retired policewoman who made fame in Lagos for being a danfo driver.
Saturday Sun learnt that the suspected murderers laid ambush and when the okada man carrying him approached the spot, they hit him on the back, pulled down him, and stabbed him to death. The death of Oladipupo, popularly called Baale raised many unanswered questions. Movement in the area was hindered for several days after the incident, as residents and road users were afraid of being mistakenly attacked by the irate youths in the area, who went haywire. The victim was one of the youth leaders at Okoya area and was loved by all due to his contributions to the development of the community, Saturday Sun discovered.
His wife, Mrs. Bashirat Ogunfile, and her three children, could not believe the news of the sudden death of their breadwinner who she discussed with some minutes before the incident. 'I don't know how to explain this. I am surprised that my husband would be killed just like that. That day, he told me that he was going to visit our son in his mother's house at Layinka Street, the next thing I heard was that some boys had killed him, leaving me and our three children to suffer', she lamented.
Mrs. Ogunfile's is tasking the police over proper investigation of her husband's death and ensure that those who killed him are punished accordingly.
Mother of the deceased, Alhaja Mojisola Martins, alias 'Mama Danfo' is really distraught.
She told Saturday Sun of her experiences on the incident. 'On the fateful day, I got several phone calls that some people had killed my son at Barra Street junction. They said while my son was on okada on his way to my place at 8am, some boys pulled him down to a corner near Arogundade's house and stabbed him to death. Not quite long, many people came to my house, crying that my son had been killed. I joined them immediately to the scene where I saw a pool of blood, but I could not see his body. I was told that he was taken to a nearby hospital, when I got there, I saw my son lying dead. I held him and cried and dragged him, but he could not answer me.'
The helpless mother said her slain son had no quarrel with anyone prior to the incident and would therefore not guess who the killers could be linked to. 'The only thing I know is that he was made the captain of Okoya Moshalashi youths, before he joined the police. He led the youths very well and as a result, they nicknamed him Baale. So, due to the nickname, the baale of that community became jealous of him. Five years ago, when he returned on leave, some suspected OPC members kidnapped him and he was released after I had reported the incident at the Layeni Police Station. Surprisingly on Friday, April 9, 2010, I was going out, on getting to Okoya junction, I looked through the side mirror of my car and saw familiar faces and reversed. .
When I asked what was going on, I heard some of them saying: 'We will kill you and kill your son.' So, immediately I learnt that I was the one they were referring to, I quickly left the place, sensing that there was danger', she explained. Sometime in February, 2010, she said one Baale called her on phone at 9.00pm and warned that she should call her son to order, else he would release his Mopol to kill him. After the, 'I started begging him on phone not to kill my son and immediately I dropped the phone, I called my son and not quite long, he came with one of his friends. When I asked him what transpired between him and the Baale, he said I should not mind Baale that the Baale was not happy with him because people also call him Baale as nickname.
I later took him to beg the Baale with hot drink. When the Baale saw us coming, he said 'you this boy, you want to prove stubborn, I will release strong Mopol to kill you', I quickly knelt down, my son and his friend, also prostrated for him and we begged him not to kill my son as he has said. He showed us one of his sons whom he said Okoya boys beat up and that since my son is the captain of Okoya boys, he should have a hand in that. I held his son and we begged him and told him that my son did not know anything concerning his son's attack and he later accepted', she stated.
Alhaja Martins also hinted that she had a tussle over the stool of 'Iyalode of Aiyetoro' Community. The matter was later taken to court. 'Another group appointed an Iyalode. She was presented to the Ojora of Lagos who later crowned her. That gave room for two factions in the community. To me, that was not the issue because Ojora of Lagos promised to settle the tussle. But later one Saidi Fakunle sent Mopol to me that they should warn me concerning the Iyalode title and I told them that he had no right to warn me concerning the title, since the community elected me. But, to my utmost surprise, they murdered my son', she explained.
Further investigation revealed that Alhaja Martins, in the process of mourning her son, went naked on the street for what she described as cleansing. Yes, as tradition demands, I moved round the spot where they killed my son naked as a sign of cleansing, to avoid such thing happening in my family again. It also serves as revenge, so that the killers would not go free. Some people said I incited the youths to revenge, but I never did. All I am waiting for is a proper investigation into the matter and I will not be happy if the culprits are spared', she said in tears.
Meanwhile, the murder of the young policeman was also linked to crises between the members of the National Union of Road Transport Workers (NURTW) Ajeromi Branch B and Keke Marwa Union in the area. But his mother disagrees with the version. 'That is not true at all, there was no problem between the two unions in the area before and after the murder of my son. Anyone linking the murder to the two unions is diverting attention. My late son helped Keke Marwa union secure loading permit at Okoya, under Ifelodun and since then, the Baale was against him saying that he had no right to do that.'
'I want justice because the killers have a traditional ruler behind them and anytime they kill someone, they will tag the victim an armed robber escape justice. I want people to help me fight this injustice. My son was not an armed robber, he was a policeman and someone that never had a hand in any crisis whatsoever', she stated.
In order to ascertain whether the deceased was killed as a result of transport union's crisis, Saturday Sun visited the Chairman of the NURTW in Ajeromi Branch B, Comrade Wasiu Alabede and he said: 'No, that was not a union matter, there was no trouble between us and the Keke Marwa people, so anyone linking the killing to union crisis is lying to deceive the people. It is unfortunate that people always link us with crisis, but I am telling you that we are not as people perceive us, we are peace loving and well organized people, We don't fight ourselves. Our only link is that mother of the deceased, Alhaja Moji Martins is our financial secretary, one of the suspects, Saidi Arogundade is our secretary and they are all from royal families. So, I think the problem was all about royal families fighting themselves', Alabede said.
Alabede also called on law enforcement agents to ensure those who had hands in the death of the policeman be punished as a deterrent to others. 'The killing is bad and it should be condemned and those behind the act should not be spared so that such acts would stop', he insisted.
The case at Panti, Yaba. As at the time of filing this report, we learnt that three people had been arrested in connection with the incident and were taken to Panti for further investigation while the remains of the deceased has since been buried in Lagos.