TONY UMEZ: FROM ACTING AS COUPLE, MY WIFE AND I GOT MARRIED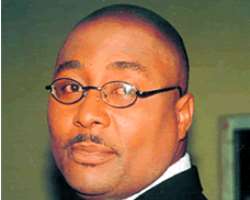 Tony Umez
Ever since he made a debut into Nollywood, in 1994, with the blockbuster movie, Died Wretched: Buried in N2.3m Casket, Tony Umez has been a force to be reckoned with in tinsel town.
With the right looks and hard work, Umez, who read English, as well as International Law and Diplomacy, as first and second degrees respectively, has been able to carve a niche for himself. He had featured in over 200 movies, in the English, Yoruba and Calabar genre, such as Blood of the Orphan, Fire on the Mountain, Out of Fire, Millionaires Club, No Rival: Ko si Orogun, Oyato, Tin ba Taiye Wa, Billionaires club, Ikaiko Restaurant, among many others.
Umez recently spoke with Saturday Sun , discussing such issues as his acting career, how he met his wife, his close shave with death when he was robbed at gunpoint, the AGN crisis and others.
What is happening to Tony Umez?
Tony Umez was, is and has always been there. I have done some jobs. It now depends on the owners of the jobs to decide when the jobs should come out. However, I am more into soap operas. I am the lead character in Nowhere to be Found. I have done 52 episodes in another one, which would come out soon. I am also involved in yet another one right now.
What do you make of the crisis in Actors Guild of Nigeria?
A lot has happened. I think we have gone through the major crisis period and we are now stabilising. We all know the story and the many factions in AGN. I think everything has stabilized now and with stability and peace come development and progress. I think we are at that stage now and from now, things would look good. For me and for a lot of other practitioners, I think the Segun Arinze faction is the bigger faction and I think they have a memorandum of understanding with some other guild heads and it has come to gain some acceptability, some legality. Since they say it's a government of national unity, for two years, he is going to run the guild.
How would you assess Nollywood then and now?
A lot of people will tell you that we haven't improved, but I think we have. Then, the scripts were heavy and that was as a result of the fact that production houses were not many and the competition was quite high. But along the line, I have seen some improvements, as per acting and directing. At a time, there was a lull. This was because too many people came in. We had poor scripts, poor rating, poor directing and so on. I think things have changed. I think we are on the rise again and with the guild getting stronger and with checks and balances, things will be much better.
There is noticeable influx of Ghanaian actors and actresses in the Nigerian film industry. What does this portend for the country?
Sometimes, I hold contrary views to popular views. First, let's start from this perspective: An actor should be able to cross borders and work. We are people with exceptional abilities. If I go to Hollywood, for example, I should be able to work there without them telling me I'm a Nigerian. There should be procedures, however. Maybe that is what the people who bring them haven't been able to do. All we are saying is, when you bring them, let them go through the normal channels.
Get a work permit that would enable them work. There was a time we were talking generally in the industry, about something called equity. If you see a banker, who is good enough to play a particular character in a movie and he is willing to do it, let him do it. But let him go through AGN. For the14 days he wants to shoot, let him get that work permit and you pay. This is a banker who wants to act; so he is like a pseudo actor. When he comes in, he pays heavily for the work permit of 14 days; that is a way of generating revenue. After 14 days, it expires; he cannot say he wants to feature in another movie, as an actor, unless he registers as a member of AGN. Maybe the procedure is wrong.
If a Hollywood producer calls me, of course, I would be so glad to go there and when I go there, I would join the necessary guild I need to join to enable me perform. I think the problem is not with the Ghanaian actors or actresses, it's just the procedure. It's the fault of whoever is inviting them. The argument is that a lot of people say there was a time they were banning Nigerian movies over there because they wanted to give their movies leverage. Why they did that is that we subdued them, so they wanted to give their movies leverage, which some other countries do. But I don't think they banned any actor from working. So in order for Nigerians to sell their movies in Ghana, some Ghanaian actors were featured, that was how the thing became so heavy. It got to a point when they said that instead of shooting it here in Nigeria, making it a Nigerian movie with Ghanaian actors, let's shoot it in Ghana with Nigerian actors so that they would say it is their movie. I don't think it is their fault basically, but it's ours with procedure.
There is the controversy about having Hausa and Yoruba channels on DSTV, while there is no Igbo channel. What do you think?
I don't know the politics concerning that and I don't know whether it is a deliberate policy to neglect the Igbo. I don't want to believe they would, in future include Igbo version because it is WAZOBIA basically. Maybe the Igbo are yet to decide to join the train or maybe they feel they need more money before they submit their movies. I don't know. But I don't think it's a deliberate policy on the part of DSTV. It would be stupid of them to come to our country and say they would do Yoruba and Hausa only, and then neglect the Igbo. It is impossible. Maybe, the Igbo do not have enough movies to go the whole hog. But I don't think it's a deliberate policy.
What has been your experiences, in terms of viewers appreciating you?
Some embarrassments come in form of negative appreciation. Just like some of these area boys would hail you and say that you are better than Jesus Christ; that you will never give birth to children like them and all those things. They clear the road for you, but there are some who would tell you the amount of money to give them. If you give them N5, 000 they will tell you that you must pay N10, 000 or N20, 000. They would tell you that when the other actor came, he gave us N20, 000. And if you don't pay the money, they would destroy some things. However, one thing that baffles me is the appreciation from children. They are so wonderful, but there is a difference between well-bred children and the other ones. There are some children within the age bracket of seven and eight who would boldly come to you and ask for money. But the way they will ask you is as if you owe them. It is so embarrassing.
Outside that, I have had a lot of positive sides. You go to the bank, they give you some preference; you walk into a place that is a no go area, they allow you to move. There are some who know you are a star and because of that they want to pull you down. I have been lucky, in the main, when it comes to that.
Why is it that your name has not been associated with any scandal despite the fact that you are a star?
I try to have a public life that is separate from my private life. When I'm doing a movie, I am acting a particular character. Outside that movie, I am Tony Umez. I try as much as possible not to get entangled with women. I love my wife very much and I respect my marriage and I respect my children. With all those things at the back of my mind, I try as much as possible to draw the line between fiction and reality. It has not been easy, but my wife has been very supportive. The bottom line is, love your wife very much and try as much as possible not to put yourself in a situation that could warrant a scandal. If you are in a room with a girl make sure there are other people there. I have been lucky.
How did you meet your wife?
I got married in 1999. This year makes it 11 years, but courtship and marriage makes it 16 years. I met my wife on set. Our church was to do a programme and I was invited to feature in the film. My friend, who was supposed to play the lead role, did not come regularly I took the script and read it. I told them I would do no other role except the lead and they said it was okay. The day I went was the day my wife came too and she played my wife in the movie. It got to a point that the movie got stagnated, but it eventually came out as Karanja. She played Mrs. Pascal and I was Mr. Pascal.
When I first saw her, she threw me off my feet with her comportment. When you see her, everything is calculated: measured gait and other positive features of a confident person. At that time I said there was no way she would not be hooked to someone. However, I realised, through my friend, Tunde Yesufu, who is now a pastor in Uganda, that she liked me. There was a day I didn't turn up for rehearsals and she asked after me from my friend. My friend said again that the lady liked me. I said that since I have been eyeing her, I would approach her. I told her I wanted her to be mine, she said we could be friends. I told her that was not what I wanted. We eventually started dating on December 4, 1994.
How come you have not featured in any Igbo movie?
Surprisingly, I don't speak Igbo well. I don't understand Igbo. In fact, the little I understand is as a result of my wife. My wife is from Okija. I am from Ogidi in Anambra State. I speak English and Efik very well because my mum comes from Cross River State. I grew up in Lagos and as a result, I speak Yoruba too. I have done some Yoruba movies, about seven. I just decided to lay back. I have also done a Calabar movie, Ikaino Restaurant. What attracted me to that movie was a particular place in the script. The guy was having problems with his wife. The popular notion is that people from Cross River and Akwa Ibom states love women. We are trying to correct that impression that an average Ibibio, Calabar man is not like that. When the man had a problem with the wife a friend took her to someone to make the man love her back. Though the woman was actually the one who pushed the man out because she felt the guy was having an affair, the guy was not unfaithful. The woman went to the other friend who gave her something to put in the guy's food. She was instructed to put that thing in his food; give him love and attention for seven days and see what happens. So the guy came back from work, with subtlety, the woman made him eat the food over seven days.
The man became so loving and she now went back to the person and said what he gave her worked. And she asked the man what the substance was. The man told her he only gave her spices. And told her that there was no way you would give a man attention and the man would look elsewhere. So that was what drew me to the film. The way they played it, it was like she was given love charm to use on her husband.
Actors are said to be grabbing many roles at the same time. What have been your experiences?
I don't do it. Maybe that is how I have been able to have a smooth ride. It is unprofessional to take many roles at a time. I don't take two jobs at the same time. It makes you lack focus. But on the other hand, sometimes, these people who give the jobs also know that these people have other jobs. Sometimes, it is also due to greed. They want to grab everything at the same time and also maybe you feel you are not being paid well and therefore want more. Producers also lie.
They tell you, Tony, you would be on set for three days because they don't want you to charge them that much. They forget that there could be problems of logistics. When it rains heavily we don't shoot; the generating system could go bunkers, among others. If another job comes, which will begin immediately after the three days we have agreed, it becomes a problem. When you get on that set, the first day passes, the second, third, fourth day, it will start affecting the one you will be going for on the fifth day; then, you start juggling. The first person would get angry, asking why you left his set when you have not finished with him. The thing is that a lot of contracts we sign favour the producer. A lot of factors are responsible.
Aside acting, what else do you do?
Aside movie, I do nothing else. My wife has been supportive. She has a shop, Diamond Hearts, Baby Paradise, where baby things are sold. Things for pregnant women are also sold. I am trying to diversify. I am into show biz. I know the show part of it, but I am beginning to learn the business aspect. I have done MC jobs. I used to do private tutoring before I started lecturing.
Could you tell us some of your unforgettable experiences?
It was an armed robbery attack and it happened late last year. I was coming back from an interactive session with former governor of the Central Bank, Professor Charles Soludo on the Island about 1.30am. I had about N5, 000 in each of my trousers pockets. I brought out the one in the right pocket and placed it on the passenger's seat. If you meet one of these vigilance boys, you can give them some little money. I live close to the expressway. When I got to the gate leading to my street, it was locked. It is usually locked at 12 midnight. I saw a headlight of a motorcycle; it did not register that motorcycles are not supposed to ply the road at that time of the night because I wanted to get home. I parked. I switched on the signal light, hoot and waited for 30 seconds. As I was about coming out of the car to get the attention of the security person, three young men, opened the door very well for me. One was pointing a gun at me, the first thing that came to my mind was: why are you doing this to me, don't you know me?'
The second pulled me out of the line of fire in case I made any move. He took my chain, ransacked my pockets; took the money on the passenger's seat. I thought they were going to steal the car. The one with the gun asked me to lie down. I didn't lie down, not out of bravery. I noticed the guy was nervous and I thought I would be shot. I told myself that If I lie on the ground, it means I will be lying facedown he could shoot me at the back of my head, but if I stand he could shoot my body and by sheer luck, I could survive. I was scared. While I was begging him, one of them came round and gave me a punch in the eye. I let out unearthly scream; it was too painful. I dropped on one knee.
The other guy came to my front. I thought he wanted to kick me; so I stiffened my body. He now snatched my wristwatch, moved away with the gun still pointed at me. They moved away and climbed their motorcycle and sped off. Luckily, we saw my car key on the road, where they dropped it. They also took my phones. I did not have phones for a long time. My wife said she had a premonition of what happened but she just couldn't tell me to stay where I was.