ERNEST OBI AND I WILL HAVE 24 CHILDREN – ACTRESS WIFE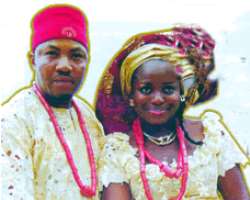 Ernest Obi and wife, Evi
Nollywood star Ernest Obijiofor on Sunday got married to actress Evi Oki, who hails from Isoko in Delta State. The ceremony was graced by who's who in the movie industry including Olu Jacobs, Joke Silva, Justus Esiri, Segun Arinze, Emeka Enyiocha, Tony Ani and Andy Chukwu, among others. Blockbuster was at the traditional marriage which took place at the bride's family house in Ajangbadi, Lagos. Few hours after the event, the couple opened up to us. Enjoy.
'My name is Evi Oki, sorry, my name is Evi Obijiofor Egwuatuowu. Some hours ago, I was Evi Oki, but now I am Evi Obijiofor. I work with an IT firm. I am a linguist. I read French, German and Spanish at the university. Right now, I am studying International Relations for my Master's degree. I have a business that I do here in Lagos and I am also involved in an international business as well.
Ernest has been there for me for eight years. The first day I set my eyes on him something struck me that he's a nice man. Yet I did not put my mind on him, but then there was something about him, glowing around him. Though, we were in a relationship, I never knew that it will lead to marriage. So, I had to take my time. After my graduation, I took some time off to do certain things. But today I am happy, I have waited this long, I have worked for it and I deserve every happiness today being married to Ernest.
I am quite happy because Ernest is a handsome man from the head to the toe. He's not just physically handsome, he's handsome all through. I see him as Ernest Obijiofor not Ernest Obi, the popular actor. I know him by the name his father gave him. Ernest Obijiorfor is my husband, I know him, I love him, and I will love him forever.
Ernest loves me, I am 100 per cent sure that he loves me, I do not compromise that.
What is so memorable about him? Well, he knows it. I cannot reveal that here. It's between the two of us. Inside the room, when we are alone together we know what is important about each other. We'll love each other forever and ever.
There is something about me, I am confident about myself. And the man I just got married to is very hard working, focused and has passion for work. I believe that by God's grace, we'll grow old together and we'll live to see our grandchildren. I cannot say for now how many children we will have but because of the kind of love we share, we may have 24 children.'
Ernest Obi on Evi
'For me, there has never been any other woman in my life for eight years. I only have eyes on Evi. Now I thank God that she is my wife today. It all started eight years ago. By the way, today is her birthday. But I haven't time to wish her a happy birthday (he does that and /Evi replies, I love you, darling). Today is her birthday and we thought it is also an ample occasion for us to express our love.
What attracted her to me is her presence. I am one of the luckiest actors in the world. I proposed to her a long time ago. Though, she said yes, I had to wait for her to round off her studies at the university. But I didn't allow her to finish her Master's degree. Actually, what kept us going for eight was sincerity of purpose. I took her as my friend, partner and confidant. And I so much cherish her sincerity.
I sued to hear people say actors can't marry their female colleagues. I met Evi when she came to register as a member of Actors Guild of Nigeria. I knew there and then that she was going to be my wife. The number of children we'll have depends on her. My mum had nine. I am an Igbo man and a titled chief. So, we will have as many as we can train.
She's also into acting, so to say, would you stop her from it?
No. I can never stop her from acting. Why should I do that? As a film maker, if she's good enough for a role, I will use her. She would be doing her thing as long as it doesn't disturb her other desires.'