I Deliberately Did not have a Court Wedding with Prince Eke…Singer, Muma Gee Reveals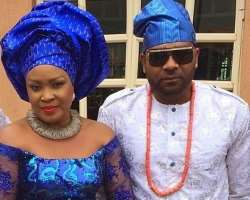 The failed marriage of Nollywood actor, Prince Eke and singer Muma Gee, is no longer news as it spread like wild fire sometime in 2016 but it has been a one side story.
Recently speaking with Punch newspaper, Muma Gee, decided to spill the beans as she disclosed that she deliberately did not have a court marriage after their white wedding because she saw what was ahead of her.
"It is exactly one year ago that I separated from my ex- husband. But then, he gave the impression that the issue happened in December 2016. I put in my best as an African woman to ensure the marriage lasted. Because of his antecedent, I had almost called off my wedding. I had already done the traditional marriage. The sign that I saw then would have made me to call it off. I didn't go ahead to do a court wedding after the church wedding. This is just the singular reason. I saw what was coming. But I tried for six years to make it work. I gave up my career; I gave up all I had built over the years to become a full time housewife. It is enough sacrifice for somebody to say thank you. If I weren't a good, submissive housewife, you would have long heard the story."
The singer went on to clear the air of alleged infidelity leveled against her by her ex-hubby as she stated that even in marriage, Eke went on to propose to four different ladies.
"He said I was seen with men, who are the men? Where is the proof? I am a high chief. Why would you come out and lie against somebody who has been kind to you? There is nemesis for all of this. I knew there was a victim he wanted to impress. Last May, I got a call from a woman who told me that she and my ex were supposed to get married but he had run away to the US. The lady said she was sorry that she got involved with him. That was not the first time but the fourth time somebody who was married to me would propose to four different women during my marriage. Come on! You don't know half of what I have gone through. I only leave it to God. When I had my twins, a woman based in America called Gina sent me a friend request on Facebook and I accepted. Then she sent me her naked pictures and my ex in bed," she said.