Minister Threatens To Revoke Abuja Cleaning Contract, If…Â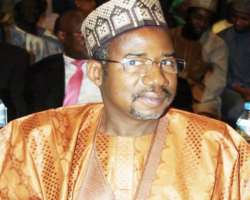 PHOTO: FCT MINISTER, SENATOR BALA MOHAMMED.
ABUJA, June 01, (THEWILL) - The FCT Administration will not hesitate to revoke the concession cleaning contract of any cleaning contractor engaged, if found not performing.
The FCT Minister, Senator Bala Abdulkadir Mohammed who made this threat on Tuesday during an interactive session with the Abuja Cleaning Contractors in his office in Abuja warned that it is not going to be business as usual.
The Minister remarked that his Administration will not condone laxity from any cleaning contractor anymore, however how highly placed the sponsors of such companies are.
Senator Mohammed reiterated that the era that the FCT Administration intervenes where there are large volumes of uncollected refuse is over; insisting that anybody must effectively do his stake by being responsible.
According to him, the FCT Administration has been paying the contractors promptly and expects that they reciprocate the same gesture by improving their services.
The Minister decried the pockets of overfilled bins noticed in the Federal Capital City and charged the contractors to discharge their duties with dispatch.
Senator Mohammed, who enjoined contractors to do everything to measure up to their terms of contract, admonished them not to only consider the monetary gains but also focus on the interest of the country, because Abuja is the window in which the World sees Nigeria.
He promised that the Abuja Environmental Protection Board (AEPB) will break new grounds by moving into the Area Councils and Satellite Towns to ensure that the message of cleanliness do not only remain in the City Centre.
The Minister revealed that the FCT Administration will this fiscal year purchase no fewer than 100,000 waste bins to take care of all the nooks and crannies of the Federal Capital Territory.
Senator Mohammed directed the Federal Capital Development Authority (FCDA) to immediately clear the access to the dumpsites to ease movement of compacting trucks to discharge waste on regular basis.
He also directed the Abuja Environmental Protection Board to increase the number their equipment to take care of the dumpsites.
Senator Mohammed emphasized that his Administration envisages that the joint venture partnership blossoms into self-sustenance where even the government can derive some benefits in a way of Internally Generated Revenue to assist in providing other services.
The Minister disclosed that the FCT Administration will within one week decentralize enforcement Units of the Abuja Environmental Protection Board for better and efficient results.
While announcing that the FCT Administration will institute an award for the best cleaning contractor at the end of the year, the Minister restated that Abuja must be clean and green.
This interactive session will henceforth be held on quarterly basis to take care of any emerging grey areas that desires urgent attention.