Here Is The New Face Of Hope... Nkiru Sylvanus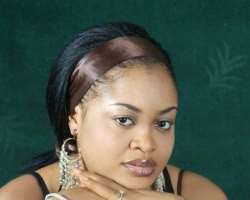 "I FEEL elated and happy for this but it is a challenge to serve humanity." In those words, the petite, silky skinned top Nollywood actress Nkiru Sylvanus accepted her award as the New Face of Hope – a charity contest in support of the less privileged organized by the Rochas Okorocha Foundation.
As she delivered her victory speech, her singly voice rang through the filled hall, her cheeks momentarily breaking into a fulfilling smile, as cameras clicked away and the applause roared, an indication that she truly deserved to win the face of hope contest that started with over 30 celebrities who are expected to be voted for, by fans across the continent. The list was later scaled down to three and at the end NK as Nkiru is called for short, was declared the continent face of hope. She returned to Enugu, Southeast Nigeria where she is based with a cash prize of N1.5 million.
"This is what I have always wanted to do – to give back and to show love to the less privileged," she enthused. "I am going to use this to further the work of the Foundation (Rochas Okorocha Foundation) and to empower the so many people who need to be empowered academically. If you ask people around me, I am sure they will confirm that one of my passions outside acting is to help people, particularly those who cannot afford it. This is a further call to serve humanity and I thank my fans for their endorsement, for spending their time and resources to vote for me and for the Rochas Foundation, particularly Mrs. Okorocha for the opportunity."
A native of Osisioma Local Council area of Abia State, NK has undoubtedly risen above just an urge to be a successful actress and charity worker. When she spoke to the Guardian, she revealed that she had developed the urge to act as a brownie.
"The urge came right from when I started nursery and up to my primary school days I always wanted to be a successful and world renowned actress or singer. As a kid, I had always loved the entertainment industry. I had always loved to entertain people. I had this longing to use the opportunity of music or acting to pass my message to the people," NK said. At age 12, she was already rearing to go, this time as a singer. "When I became more mature, it was being a singer that I wanted. There wasn't much happening like now in the area of acting. It was either on stage then or on television and eve then, we did not have a variety of television dramas that we have now. If it was not Village headmaster it was the New Masquerade. It was much later that we started to experience an influx of programmes like Ripples and Checkmate," she recollects, now handing her mobile phone to her cousin who had accompanied her to the popular Holy Ghost Park in Enugu.
Nkiru chose that option because callers won't just let the actress of 'Divine Punishment' and 'A Cry for Help' be. She had answered close to fifty calls between the time she drove into the park and the time she pulled up at the Ekenne Dili Chukwu end of the always-crowded park. The bulk of the callers were her numerous fans across the country who called to extend warm New Year greetings to their beloved screen actress. But the last caller was her dad, Dee Sylvanus who wanted to be sure she had arrived Enugu safely. Nkiru had driven in from Aba where she had gone to spend the Christmas and New Year break.
"In fact, if I was not an actress, I would probably have been a singer," she continued, "because I loved singing. As a kid, I could sing from R&B to gospel. But it was acting that later became my first choice after I completed my secondary education even though I have not ruled out the possibility of my returning to singing in the near future'
Shortly after her early education, Nkiru sought opportunities to do some acting. She joined a popular but now defunct acting club, the Coal City Acting Club in Enugu so she could be trained. Each day after rehearsals, Nkiru recalled that she would always kneel to ask God for leading in her sojourn into the glamorous world of acting. She longed for more artistic diversity and acting opportunities on screen so she could reach out to more people beyond the small crowd their skits at the Coal City club pulled.
It didn't however take long for her supplications to be answered. She got a break precisely in 2000 and got quite a number of movie buffs
to develop an admiration for her acting stuff. That was as a supporting lead character in the movie 'Out Of Cage'.
'I had gone to see a friend at Hotel Presidential when I saw a crowd at the basement. I had asked my friend what they were doing and she said that it was an audition exercise to pick artistes for a movie that was going on. Straight away, I decided to take part in the audition. That was how I got my first major role in the movie. And it served as my stepping-stone. From there, I got to experience what acting on screen was all about. I stated to grab the experience. I looked forward to more challenges and after the movie was released I started getting roles from other producers. That was how it started."
She has in no time proven her acting ability on the screen and has become a subject of affection for many and an idol to masses of young girls and women. Indeed, to say that the NK has within a short spell lifted her talent to a level that deserves some recognition would be stating the obvious. The actress of innumerable screen credits whose screen credits include a memorable appearance in 'No
Shaking', 'Okada Man', 'Sympathy', 'A Cry for Help', 'Abuse', 'Hatred', 'Divine Punishment', 'Light and Darkness' and lately 'King of the Jungle' has today emerged as one of the Nigerian phenomenal movie culture's most popular and celebrated actresses who is though often smirked for playing the weeping girl in most of her movie appearances. She explains that the crying bit is the effect of the appropriate energy she brings to bear on the interpretation of her screen roles. Nkiru had a supporter in a critic who once remarked that it is her ability to cry and make people empathize with her while still locked in to the story that has made her acting strut appear memorable and almost remarkable.
She further explains: "I have often had to explain that I personally don't like crying even though I am a very emotional person. I cry and cry well in movies because the roles demand that I cry for you at home to first believe that I am crying and for you to be pulled into my plight. It's just what the roles say. I wouldn't just begin to cry if the role says I should smile. So, it's basically the demand of the roles I have been given to interpret."
But it was her effort in yet another flick of epic nature Evil Forest that shot the ex-student of Ohabiam Secondary School Aba, Abia State to limelight. Nkiru who is currently pursuing a degree in Mass Communication at the Enugu state University cut a memorable swathe in that movie which ranked as her first major lead performance in the movie. Her performance there earned her a huge following and got movie buffs further convinced that she possesses the ability to get them to spend time with her in several movies.
"I believe that it was that movie Evil Forest that shot me to limelight. The story was about my mother and me. After that, quite a lot of people believed that I could do some serious acting. After it too, I got a lot of fans. I walk on the street, kids run after me, people call me and all that. It was a whole lot of fun for me—and work too because the jobs flowed in. There was hardly a month that I would not be on location. Later I did A Cry for Help, which was my eighth job. That too was a bombshell. I got a lot of positive reviews, which spurred me on and shot me out until I started getting the bigger jobs and the scripts started rolling on. I probably would have done over 100 movies. I am sure they would be more if I devote time to counting. But, I have done so many and am still looking forward to doing that movie that will task the hell out of me and that would make me take a forced break."
However her input in one of Nollywood's priciest productions Emalex King of the Jungle starring the hulky actor Hanks Anuku ranks as her most memorable movie offering. "That's one movie I would always live to remember. I loved the character and I decided within me that I was going to give it my best and even the director attested that I did. I mean if you know the difference between my tiny frame and that of Hanks Anuku, you would understand what it would take to play his wife in the movie and really subdue him because he was the most feared in the whole land. So, I love the role so much because again, it was quite different from others I have played. In movies, I am always cast, even though not by choice, to play a good girl or someone who is naïve. It was a good feeling for me to do something different. I have always wanted to prove that I could play any role. So, I consider it a big break for me. Because I have people now who want me on their set to play something from what a lot of people say are my traditional roles. I hope the audience found King of the Jungle interesting. So it was a little bit tasking for me. But like I said, I haven't yet done a movie that would make me take a forced break."
What has been the gain of the profession? "Well. I would say I am not complaining at all. I am very comfortable," NK says with a smile on her pretty face. "Through acting, which is the talent God has given me, I have been able to make myself comfortable in life. I have enough to eat and enough to share with my family. I don't lack at all and I don't think I would ever lack as long as I am around and still acting. So, I could say I am very comfortable. And I pray to be more comfortable as the days go by."
What doesn't she like about being a celebrity? "The negative part is that you get a lot of people nosing into what you do. Gossips get to work just so as to smear you and all this to me comes with stardom," she agonizes. "I mean we read foreign journals and we know what they say and write about screen actors and music stars. So some of us have grown to appreciate that it is part of the industry to be talked about. Even when you decide to be yourself people would still talk. If they don't say that you are anti-social, they would say you are pompous when the reason you don't want to step out of your car to greet them may be because you are avoiding a mob. There was a time when I heard people call me a snub because I want to keep to myself. I heard all sorts. But like I said, some of us have grown to know that it's all the trappings of the industry. I don't lose a sleep anytime I hear or read people talk about me. I may get slightly worried but when I remember the kind of industry I am playing in, I would relax."
One other negative aspect of the profession, she says, is having to contend with pestering male fans. But she submits that she has learnt how well to handle them. "Well it would be right to suggest that I have more male fans than female fans but I do know that I have so many young people especially ladies also in my fan club," she declares. "But coming back to your question, I think I have more males pestering me because I am a female. In chemistry, I was taught that unlike things attract each other. So it's like the males appreciate you. They are the ones who are bold enough to voice out the fact that they appreciate you. But I have a number of female fans, mothers, wives and young girls who call me on a daily basis wanting to know me and all that. Some call to say that they love me. Most times, if I receive hundred calls, 40 would be from women and 60 would be from men folk who like my performance and some who would get even bold to say that they like to hang out with me. In any case I have been able to manage all my admirers. I handle them with care. I treat them with care. Without them we won't be there. They are the people who buy and watch the movies. So, whenever they come around and want to get lustful, I caution them but I treat them politely."