Behind the scenes at Mike Ezunronye wedding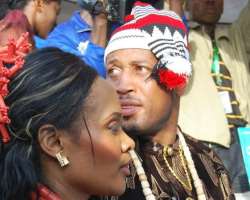 Nollywood golden boy, Mike Ezunronye last Saturday had his traditional wedding at Mbano, Imo State. He married Nkechi Nnorom, a medical psychologist based in Canada. Showbiz Now was there to bring you the gists.
Large turn- out of showbiz people
If the large turn-out of showbiz people is a test of popularity then Mike, the groom is very popular. From John Okafor to Mercy Johnson, a cross-section of stars were there to support one of their own. The roll call include, Patience Ozonkwor, Ini Edo, Tonto Dike, Uche Jombo, Chika Ike, Jackie Appiah, Rukky Sandah, Desmond Elliot, Nonso Diobi, Halimar Abubarkar, Emeka Ani, KC Presh, Julius Agwu, Dauda, Chinedu Ikedieze and others.
KC Presh and E Money
Segemende crooners, KC Presh were at the wedding with Emeka, KC's brother popularly called E-money. With some other guys they were dressed in white apparells and walking stick. E-money was everywhere using every opportunity to spray money.
The community of short gown dressers
We had to do a double check on the invitees to be sure that the dress code was not short gown. Tonto Dike, Jackie Appiah, Halimar Abubarkar, and Rukky Sanda who all sat opposite us were all in short gowns. Some struggled to make sure some essen tials were not exposed and others had to use handkerchiefs and the table as shields against the prying eyes of journalists and paparazzi.
Mercy Johnson on her own
Mercy Johnson was in the building and the ebony actress was on her own. Apart from the loud cheering she got when John Okafor and Comedian Dauda announced her arrival to the venue; she was practically left on her own. She did not associate with any of the actresses there except when she posed for a group photograph with Chika Ike and Queen Nwokobia.. She first sat with others but had to move to another seat on another row when nobody except the fans paid attention to her. Her case became obvious when almost all the actors and actresses in the house stood up to give Mama G standing ovation and rushed to welcome her to the venue. They even posed for pictures with her as if they are not stars themselves.
None of the Nollywood stars touched the sourvenir she made for the wedding, , a sign' all is not well with her and fellow stars.
Mildred Okwo, the hands on manager
Yes, Mildred Okwo, Mike's manager was everywhere to make sure the marriage went well without any hitch. She had her camera with her as is fast becoming her favourable past time. She proved she was a hands-on manager as she dished out instructions to mobile policemen, Mike and others. Her popularity among the stars was not in doubt as many of them thronged to her for one assistance or the other. Tonto had to go on her knees when she saw her. And this information is free; Ini Edo is now also her client.
Ini's Dressing raises eyebrows
Ini Edo commanded attention of many as her dress, a topless flowing gown did not do justice to her figure. The wife of Philip Ehigiwana was not looking too good at all. One of the guests observed that she was looking like a doll. Too bad for a beautiful actress with a nice shape.
Jackie Appiah, Ghana's most loved actress in Nollywood
If the way other Nollywood divas frolic with Jackie Appiah is anything to go by, then the actress is the most loved Ghanaian actress in Nollywood. We were reliably informed that the reason is because she mixes freely with her counterparts in Nollywood unlike Nadia.
Mama G, Chinedu and Mercy Elicited the loudest cheer
If ovation is the gauge of popularity, Chinedu Ikedieze (Aki), Patience Ozonkwo (Mama G), and Mercy Johnson got the loudest. As soon as Dauda announced their arrival the crowd went wild and Chinedu did cause a stir.
Happy wife
Mike Ezunronye's wife is a happy bride. She showed how happy she was when she performed the traditional field dance. She moved gleefully and even stopped where Nollywood people were seated to acknowledge their presence.
Harvest of souvenirs
If Mike's white wedding would be as glamorous as this, then we are all looking forward to it. Souvenirs of all kinds graced the event and the most striking thing about the souvenirs was that they were all done by colleagues of Mike. Tonto Dike led the way with umbrellas, jotters, mugs, bags and the likes. Mercy Johnson, Nonso Diobi, Ini Edo, all brought special souvenirs ranging from wall clocks, bags, mugs, jotters and umbrellas for guests.
It is blackberry all the way
At the wedding blackberry was like a status symbol. All the stars in attendance had one blackberry or two and many were busy posting pictures of the wedding on the net. Uche Jombo, Tonto, Jackie Appiah, Rukkie Sandah and others clutched to theirs while some flaunted theirs.
AFTER WEDDING party almost messy
The after party which held at Club 40/40 almost ruined the event as security men had to ward-off lots of people at the gate. Even Mike Ezuronye's brother had to turn back at a time. The crowd was so huge that KC Presh and other stars went through hell gaining entrance. Bouncers made things worse when they started pushing people indiscriminately. Many screamed why others fell and shed tears. There was a small fight bceuase a guy forced himself in , but all that stopped as soon as Mike came in and gave instructions to the very rude bouncer.
Mike BATHED with Champagne
Mike must have had a shower before the after party but got another round of shower at the club.This time around it was a champagne bath. He was carried high and torrents of champagne was poured on him. He was wet and he enjoyed it.
Tonto and Uche led the club drama
The stars let down their guards and danced at the club. Tonto was like the cheer leader leading others to the dance floor while Uche, Rukky, Haimar and Jackie followed with all kinds of dance steps. We were even shocked to see Ini dancing Alanta like we all dance it on the street.
E-money 's attitude at the club
We hope Emeka , KC's brother of the KC Presh fame would read this. Spraying money and having the the crowd mob him is becoming boring. He took the irritating attitude to the club where he threw money up and down and the people scampered for a share. It is getting on the nerves of decent people.
This is bushy please!