Expect my hair magazine soon – Azeezat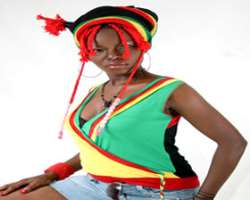 Not too long ago, Azeezat was the top female music artiste in Nigeria. Suddenly, she disappeared from the mainstream without a trace. As she explains to OSEYIZA OOGBODO, she took the break to refresh herself and music. She is back now and intends to reclaim her 'throne' .
You took a long break from the music industry. Why?
Well, I had a lot of work to do, because the music industry itself has changed over time, and there's a lot of work to be done in order to continue to be the pacesetter that I am known to be. I have a lot of other things I'm doing apart from music. And of course, when you are doing things not related to music, people feel that you took a break. But I am back now and I am almost ready with my third album and some other projects.
You said you want to remain musically relevant, yet you're doing other things with music. Because of these other things, you won't have enough time for music, right?
No. It is known the world over that artistes take breaks in order to refresh. What I said was that I had to take some time to do some work. As I was doing them, I was doing my homework, musically. Some artistes in US even announce their resignation, only for them to come back with an album. Resignation or whatever, you take breaks to refresh.
How long was your break?
Well, it is people that will tell me that one because sometimes, what I call a break, is not what they call a break. Once our people continue to see your face on TV, that is not a break. Even during my break, I was still attending interviews and all that. Sometimes, some people will give it a time-frame. But why people will call mine a break was because there was a time that I was really in your face, and during that time, it was like I was almost the only female act. There were very, very few strong female acts, and some people even say that I was like the only female act. So, I was attending interviews back-to-back. In short, there were some programmes that kept on calling me, and at a point, I had to tell them 'nooooo' because I didn't want to turn to pure water and all that. From that time, people would say I took a break. One thing people don't understand is that the music industry itself is very multifaceted. To some people, being in the industry is being on TV, on radio, in the papers or on the internet. But there are some other business parts, and I know a lot about them because I have been in the industry for so long. I know so much about all the industry's different sides so I know if you allow a part to suffer, you will pay for it. So sometimes, if I am not in your face on TV or the papers, I am taking care of some of the other sides of the business. I think to a large extent that's why some people still tell me that I am one of the strongest till date. Even with all the breaks and all the mega cheddar being made by the new breed, some people still feel I am one of the strongest because I take care of all the sides of the business.
Tell us some of those other things you do in music apart from singing, songwriting and performing which we know you for and also what you do outside music.
Singing, songwriting ... okay, I do live band performances.
That's still performing. Do you produce or manage artistes? What are those other things you do in the music industry?
That's what I'm saying. I do live band, which is performance but it is not performance. It is that kind of thing you do back-to-back. You can have three shows a week, and you can be booked for like six months, and people will tell you you are on break because you are not on TV or radio. You are performing at weddings, house warmings, at a joint. So I do that and I love it because it's totally different from miming to your soundtrack.
Are you trying to say that you are packaging Azeezat for live band performances only?
No. No. There are a lot of things in live band performances that make you a stronger artiste. However, depending on the promoters, I will continue to perform live or miming.
What are the things you do outside music?
Also in music, I do presentation, MC, stuff like that. Outside music, I'm into tourism. I had a programme called Weekend With Azeezat on Takwa Bay. It promoted Takwa Bay as a tourist destination, and generally lending my voice to the beauty of Nigeria as a tourist destination, you know, I had that for a while. And there are some other things under my belt that I am not ready to disclose yet. But I am about to publish my magazine. It is called Sunflower Hairvolution. It is the first bonafide hair magazine in Nigeria. I have been working on it for about two years now and we are now ready. By mid-June at most, it should be in the market.
Is it going to be a monthly, a glossy, how many pages will it be?
There's a monthly that's a free insert in Acada youth magazine, then a glossy quarterly. And of course, we have other things that key into it because Sunflower Hairvolution is not just a magazine. It is TV and events too. One of our events will be Hairvolution Night Of A Thousand Girls.
A thousand girls as spectators or performers at the event?
Next question. As long as you know that when you get there, what you going to see is a thousand girls with different great hairstyles.
When is it coming up?
Soon. But what I am really concentrating on now is the magazine's release.
How prepared are you for the stress and every other factor associated with being a publisher in Nigeria?
Azeezat is a trained journalist. I studied Mass Communication at Moshood Abiola Polytechnic. I have also, before I came into music, worked in different parts of the media, so I know what it takes, and that's why it is taking me so long to fulfill it because I had to do my research. In short, before then, I was waiting endlessly for someone to fill up the vacuum because hair is so big yet there is no single full magazine for hair in Nigeria; unlike in other parts of the world. I was waiting. I thought someone would do it, and when nobody did, I decided to. And of course, you know that I am known for my hair, so I always say 'who better should write and talk about hair than Azeezat'.
You are going to be a big-time publisher, events' person and still a singer. Will all these irons in the fire allow you create good music?
Well, creating music is not something you can force. I grew up in an era of great music that nurtured me, so I know all it takes is a great song to do wonders for your music career. And it doesn't have to be written by me. We have fantastic songwriters in Nigeria. Even in this my current album, Lovers Club, most of the songs...in fact, I didn't want to have anything written by me on the album. The one song on it that is written by me was by accident. We have fantastic songwriters who are 'jonesing.' I am someone who is passionate about encouraging people, lending my voice and lending my energy to people's growth. So why should they continue to jones and I will also be jonesing; because once you cannot have a great song, that's the end of you. So, let's rub our backs, you know. It won't disturb my creation, and then when a great song comes to me too, why not?
You just said yourself that you collaborated with a lot of songwriters. Nigeria is a country where we have a lot of copyright issues, accusations flying around, Baba Nee to 9ice, 'you stole my song', the same thing of Komoblastic to Tuface. So what sort of agreement do you have with these songwriters so that in future, we won't have, 'Azeezat, you stole my song'?
Well, things like that, you cannot avoid. Let's be honest...
Did you sign agreements with them?
Yes, I did.
Did you pay them for their songs?
We have arrangements. Honestly, earlier in my career, it was something I was really avoiding because I am somebody who likes to avoid scandals and all that. But after a while, I discovered that it is not something you can totally do without. I am being honest with you. The truth is this, most of the greatest songs in this life do not get published. The greatest songs die in the studio. It is a great loss to the music industry, a great loss to the souls of the people that those songs would heal. So, I kept on saying no, no, your song, leave it, don't worry, you know, that sort of thing, and it is unfair, to even the songs themselves. Songs have a spirit. They have a soul, and you do not allow them to live because somebody somewhere is being selfish. Somebody, somewhere is being myopic. If you are out there and you are reading this, oh boy, I see a great song, I do not care ... it's not like, yeah, I'm still a honourable person, to the glory of God. I am still someone who tries as much as possible to avoid scandal, but there is a particular person, a song style that I am already known for, and a particular person is telling me bull about it, and I am saying once I am ready for that song, I don't care what is going to happen. The worst that will happen is that I will do the song, the world will be happy that that song I gave it to them and then we can go to the court and settle it. It is the truth.
When will Lovers Club hit the market?
I have some collabos I have to still do before I can release it. The album is ready, but sometimes, if you don't do these collabos ... anything, anything, anything. I have a great song I am taking from someone. It's his song o, and he said abeg, at least feature me inside. And he is not based in Lagos so I am waiting for him to come back. And also some heavyweight collaborations. Keep your fingers crossed. You know me, my fans, that Azeezat is always particular about the sort of songs she dishes out to you. They are always songs you love, songs that inspire you, that add value to you, that is why I am taking my time.
You have had a lot of performances. Which is your greatest so far?
Like I told you, I love live band performances. And I know that I have had a lot of great ones.
But some will tell you it is when they performed for the president, or to 140,000 people at Maracana Stadium in Rio De Janeiro. You don't have a unique one like that?
OK. I have had a lot of great performances, but I think I remember when I opened for Femi Kuti at the first-ever MTN Y'ellofest. But to me, the performance that is really embedded in my heart is the one that I had Goethe Institute and I had Ambassador Olusola bless me. I have it on tape and every time I look at it, I feel like 'yeah'.
Coming into the industry many years ago, what did you actually want to achieve?
Greatness. Greatnesses has forms, classes and levels, but greatness.
So which level of greatness? All the way or to a certain extent?
Even the people that want to go halfway will not tell you that they want to go halfway. Some people will tell you that I want to go all the way, and of course, by the time your belly starts singing from hunger, you will settle for less. But I think I have paid enough dues to go all the way.
How soon do you then think you will achieve that greatness which you have in your mind that only you can envisage?
I don't know.
What is your take on why female artistes are finding it difficult to be successful here, unlike in America and Europe?
Well, honestly, even in America and Europe, if you still calculate the percentage of female artistes compared to their male counterparts, you will still know that the males are higher. I am a die-hard fan of Naija, and I don't like it when people bring Naija down, comparing it to US and UK and saying one thing, one thing, nahhh. As it happens here, it happens there. It is just that the scale could be higher. Number one, I wouldn't say females don't have a voice, compared to then. We have a voice now, strong voices that are heard. Omawunmi, Waje, and this babe that I'm feeling in recent times, Ibiyemi. She makes me want to write a new song. So, we have a platform. We are being heard. It could be better, because some girls allow us to be labeled as wack. I am not being judgmental, but they don't do their homework well before coming out.
Do you agree that you are making a comeback?
Comeback? OK, I agree, I agree.
How easy do you think it will be? Will all these new girls now just buckle over and say Azeezat is back, make way?
Lai-lai, nobody dey do that kain thing now. They will hold the thing in their hand, and they will tell you, 'yes ma, yes ma', but the thing, dem no go let am go. Honestly, everything in life is not easy. And I, particularly, did not expect that somebody is just going to hand it over to me. I think the reason that I have gone as far as I have gone is because I didn't wait for anyone to hand it over to me. It is been a long time coming. I mean, this my project didn't start today. That is also how you will know it is not been easy. It is not something I just stood up one day and said I am going to come back and then I just entered and then I am back. No. Comebacks are not easy. Dynamics have changed and stuff, so you also have to like, school yourself to be able to fit into the new system. The first thing I asked myself about this project when I decided on it was 'do I have what it takes?' And I thought it out that I have what it takes. So I said to myself, 'Azeezat, forget that you ever had a name, so that it won't be that it's your name you want to ride on'. I cleaned up my slate and started and God has been merciful to me. He has helped my return tremendously. I thank Him for that.
You know the industry very well, the way the wind blows in it. And you have a new video on air. Since you released the video, has it brought more opportunity your way?
One thing I know is that at least it has convinced some people that I have not left. What I did with this video is to say 'I am still here'. You will be amazed that some people out there do not remember, do not know who you are.
How did you discover your music talent?
I didn't discover music. I started by writing songs. A s a matter of fact, by the time I was 13, I was already a published writer. I wrote poems and songs and got published by Lagos Horizon. After then, I had cousins coming around and we were trying to entertain ourselves and we started by singing popular songs, then I think it was a Pepsi, 7-Up or Coca-Cola advert, and every time I sang it, my cousins were like 'she's the winner.' That was how, gradually, the knowledge of my talent came to me.
How did you then encourage yourself to go into music? How was the journey to music success?
The journey between when I discovered my talent and Nigeria discovered me was a very long one. Then, I was in secondary school and I started doing small, small literary and debating performances. In higher institution, I joined a group, West Coast Family, and we did a lot of campus and club shows until we broke up after which there was a kind of long break. During that long break, I did a lot of research and grooming for myself by rescoring international songs and trying to fit my voice into what I was hearing. A lot of other people were also giving advice that I was followed. That was in Abeokuta. Everybody was there and I even got a presentation stint with OGBC 2. Eventually, I told myself, if you have to do this thing, you have to do it with God. So I went into fasting and praying, and God did not answer my prayers until like two or three years after I came to Lagos. By chance, they told me Ayo Animashaun was organizing something. My neighbour was his client and Ayo came to his house and he told Ayo 'this is the girl I've been telling you about', so that's how I got involved with Girls Nite Out which I did not win. I cried like a baby. I met my manager and the professional journey started in earnest.