Singer, Terry G Brags about Taking Care of his Babymama, Son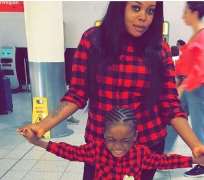 Singer, Terry G, has been running his race alone despite not getting the massive publicity the way he used to get but that has not stopped him from making more music and touring the world.
The singer has not allowed his career affect his family as he has constantly ensured that he gives his son the best in life as he has already enrolled him in Chelsea's cadet team.
Terry G, who is not in a rush to have a second child recently shared picture of his babymama and his son having fun abroad.
Not every man will be this proud of their role in taking care of their family but the singer has sure invested a lot into his family and he is proud of what he has done o far. "I can't shout, so proud of myself na man I be."