People Accuse Me Of Importing And Not Exporting Artistes –Sheila Okonji Ashinze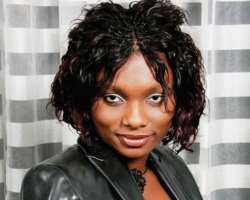 She is the delectable woman behind Zones Holdings, an entertainment company responsible for bringing foreign music acts to Nigeria. This beautiful and brilliant Nigerian left the shores of her fatherland as a result of incessant lecturers' strike to complete her education at the Lewisham College and University of Westminster. The mother of one, who says top American artiste, Jay Z would forever appreciate the fact that her company brought him first to Africa like several other international artistes, further disclosed her relationship with Mobo Founder, Kanya King, and her love for the entertainment industry in this interview with Reporter, Gbenga Bada.
You have just concluded another big project, High School Musical, can you give us an insight into the whole deal?
Kidztrust is a UK-based company that has a branch here in Nigeria and is also run by Nigerians and we wanted to do something that would empower kids and the youths and we thought of something in collaboration with our parent company, which is Zones Holdings. Zones Holdings has brought several artistes to Nigeria and we realised that we haven't done something for the kids and we found the big niche in the market and we felt the best way was through Disney because we couldn't see through any other thing. And we felt through Disney, they would be able to create the next Hanna Montana, Justin Timberlake, Britney Spears and all the big names and that is what we are all about. That is why we got the license for High School Musical for Nigeria.
Why the High School Musical and not something else from Disney?
High School Musical was the only product that we could get to achieve our aim. In fact, it was the hardest getting because the Mickey Mouse club is all about business, you have your parents to fund you but for the High School Musical, the parents weren't funding, we had to fund the kids ourselves and we thank all our sponsors and everyone involved. Everyone involved had to play their roles to make it a reality. Even the PR company played its role and again it was the only product that we could use our own cast with, the others we had to go to them.
It's no doubt that the project is quite capital intensive. How much did you spend on it to make it a reality?
I wish I can give you a figure but I really can't but just bear it in mind that a lot of money and a lot of work went into the project but from what we have achieved, I can boastfully tell you that it is worth it. And I thank our sponsors, First Bank, Souncity, Parenting and others.
So, how was the fund raised eventually?
Kidztrust believes strongly in this project and made a huge investment. However, we could have gone nowhere without our major and only other financial sponsor. Like I said, the First Bank Hi Fi account liked the new and dynamic phenomenal behind High School Musical live on stage in Nigeria. They also believe that the concept was something different and it will empower the youth of Nigeria and they banked the idea and also bankrolled it.
How long did it take you to get this idea started since it was borrowed from an original owner?
It actually took us like a year to get the idea right, then before we got the licence last year and now began planning the whole process and here we are. All these went down because I didn't want it to become just a normal or usual reality TV show; I wanted something different, I wanted to create a brand, I wanted to create a business and it's a business where you could book these guys and they also in turn earn a living. This is because it's the future for these guys.
But is your PR company not going to take over their management as a group?
We don't want to be biased and that is why we are saying that a good manager, who knows his or her onions in the business and can get them shows every week, should come forward because we have raised them to an international level and standards of the likes of Jay Z or even the original cast and crew of the Disney High School Musical. We want someone that would give them a career from the beginning of every year to the end. I know they are going to Ghana where they would perform. There they would get paid and earn a living for themselves. We are already talking with the Nigerian High Commissioner in Ghana for the show and they are happy about the idea. There are 32 of them and they can get good money to get a future for themselves in what they have learnt and which would make them better people. We need a good manager who can make them as big as Umoja after their brilliant performance.
After the show, we would release them and they get back to their various homes, they have been in camp for several weeks now but would go home and get themselves occupied. Whenever the group is needed again, they will be called upon and reassemble for any gig which their managers must have gotten for them.
Why entertainment for you?
I do entertainment because that is what I enjoy doing, that is what I love. I am simply into entertainment because that is what I love. I always tell people that I need to push the boundaries and that is why I get to do something new all the time in the entertainment world. I mean, it gets boring when all I do is bring in the artistes all the time and people have accused me of bringing artistes into the country and not exporting our own, and that is what I have done with my 32 cast and I am so elated because that is what makes the world go round.
But you used to live in Nigeria, why did you decide to relocate before making it big in the entertainment industry?
My parents thought they should bless me as the incessant strikes in Nigeria were too much to comprehend, so I had to relocate to complete my education. It was a big sacrifice they made and I remain eternally grateful to them for that.
You are friends with Kanya King, who is behind the Music of Black Origin (MOBO) awards, how has this affected your personality and business strength?
Kanya is my mentor and I love her dearly. She is a big sister to me and she has been one, she is still now and would always be a big sister. I also had to do a lot of work on my own to stay relevant in the business. As it is known and believed, a door or passage can be shared or shown to you but you need the right keys to get in and the heart to stay in there for as long as you want, I guess that answers it.
You are known to have brought several foreign stars to Nigeria, how true is it that you have made a fortune for yourself doing this?
Anyway, I have brought several stars to Nigeria just as we are responsible for taking a good number of Nigerian artistes to the United Kingdom. Also watch and see the outcome of Nigeria's High School Musical lead cast members. The winners for the Troy and Gabriella character get to go to England on a theatre course sponsored by the High School Musical Live on Stage production. There is so much in the pipeline for them.
What is behind your success story?
I have a very good working relationship with all these artistes. We at Zone Holdings create an experience most of them can never forget. We were the first to bring Jay Z to Africa and this means a lot to him. The collaboration we organised with Star Mega Jam between Busta Rhymes and The Pulse is also another experience that Busta can never forget. There are so many examples and we are happy at Zones Holdings and that was why I said I enjoy and love what I am doing.
How was growing up?
It was beautiful. I have the best parents in the world, who were supportive and helped in all that I did.
Which schools did you attend?
I attended St. Catharine's Primary School, Federal Government Girls College, Bida, (Niger State), Lewisham College and University of Westminster, in the UK.
I am very passionate about the growth of the entertainment industry in Nigeria. I am the CEO of Zones Holdings, which has many subsidiaries including Zones PR and Kidztrust.