Ultimate Celeb to be announced on Sunday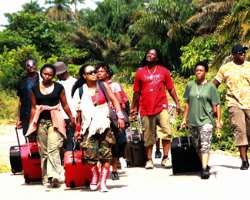 We've been told, by very reliable sources, that the final recording for the on-going Gulder Ultimate Search Celebrity Showdown will hold in Lagos tomorrow (Saturday May 29).
Although it remains uncertain whether a winner will be chosen based on fan votes or by tasks, our sources assure us a winner will be announced tomorrow, during a gala at La Campagne Tropicana resort, on the outskirts of Lagos.
Everyone now knows who the final three contenders are: Daddy Showkey, Darey and Emeka Ike.
What's left, is to find out in a matter of hours, who the ultimate man is...