I Don't Hate my Ex-hubby 9Ice, It's Just Impossible…Toni Payne Reveals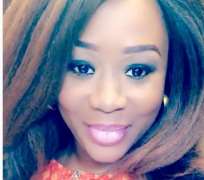 Ex-wife to singer, 9ice, Toni Payne, is currently in the country and she was recently a guest on popular TVC breakfast programme, 'Your Views,' where she discussed about being a single mother.
Several points were made on this issue on how to best manage the situation either when single or remarrying without allowing it to affect one's future but she was very daisy when a personal question about her love for her ex was thrown at her.
When asked if she still loves 9ice since she is not in any relationship yet, Toni tried avoiding the question as she kept smiling about but stressed that one thing is certain about them that she does not hate him because he is human.
She admitted that sometimes when she plays around with names of other guys, her 8year old son, Zion, will ask her," hey, what of my dad."
In her words monitored by Nollywoodgsist.com, "Getting a divorce in Nigeria can be very complicated. A man that wants divorce knows how to get it likewise a woman. I have always been nervous moving on with my life after the whole issue like I will never do this and that (lol), but for 9ice, I don't hate him, he is human, it is impossible. I can remarry."