Tonto Dikeh is a Grown Fool for Protesting on the Streets…Fan Blast Actress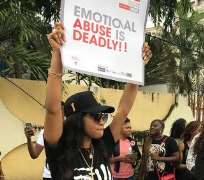 Alright, the issue of domestic violence is actually bad but the way some people handle the issue is what baffles many like a fan of Nollywood actress, Tonto Dikeh, who came out blasting her for taking to the streets.
The fan who goes by the name Baebii_vee, described Tonto as a grown fool who presumably is not teaching the single ladies how such situations can be handled maturely.
Tonto was made to understand that in such situation of domestic violence, being a celebrity, she could have chosen to walk out silently without bringing it to the front burner just the way foreign celebs do.
In the words of the fan, she wrote, "baebii_vee: @tontolet1 @tontolet ....am sorry honey...but you a grown fool...so you happy you finally out and single again? So if we single ladies out have misunderstanding with our husbands we should leave him and start carrying placards??? Even if you wanna quit, as a star, it should have done quietly.
"In America stars quit their marriages the street won't even know. .not until the lady us seen on TV, ceremony with a new dude and one would ask how come? Then you will be hearing, ah, since a year now...she divorced her husband and now in a new relationship. I am telling you as you ma big sister, better calm down now because no man will provide and pre leach to you as that churchhill did.
"The new guy on your life now or about to come is already afraid you gonna beat him or break his newly bought jeep...don't come out the street and make dating hard for the singles...let us marry finish before you start your nonsense."