After 1year of losing hubby, OAP, Adeola Phoenix Osinuga Down with Chronic Disease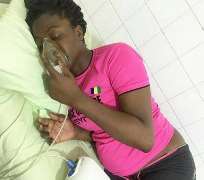 March 21 2016, will always be a year and date mother of two, Adeola Phoenix Osinuga, will always live to remember as it was when she lost her husband, Nomoreloss few weeks after he was diagnosed of Typhoid Fever.
After a year now, Adeola, is bed ridden as she has been diagnosed with a chronic disease called fibromyalgia.
Adeola who is an on-air-personality with Rhythm FM, has not been at her best as she disclosed that with the level of pain killers she has been taking, it's enough for her to own a pharmacy.
In her words, "I can almost open my own pharmacy at this rate. Sometimes, you need painkillers for the pain caused by going to the hospital for painkillers. (Sigh) when I think about the amount of chocolates I could buy with this money instead of buying medicine."