Father's Day: Actress, Tonto Dikeh Visits Son School in Male Outfit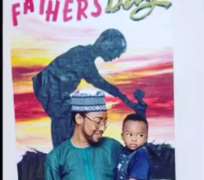 Nollywood actress, Tonto Dikeh, bing an entertainer knows how to create strong buzz for herself and knows where and when to pull the strings.
The actress in celebrating father's day decided to dress in a man's attire to her son's school just to stand in as a father for her boy who no longer stays with his father.
She deliberately did that so her boy, King Andre, will not feel the absence of his father.
Sharing how her day went, sh wrote, "JUICY MAN's(KINGY) School father's day celebration today.. I Showed Up For my Son.. #PROUD MOTHER #KINGTONTO #KINGY #CHAMPIONS #I AM BLESSED #I AM A WOMAN ,I AM STRONG,I AM BLACK AND I AM PROUD OF THESE.."