Another Aso Beauty Queen Gets Engaged, Kisses Man On Social Media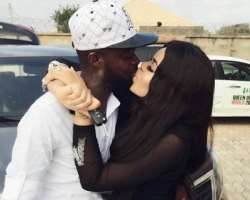 Indeed, this should be another celebration for the empire of Queen Of Aso Nigeria as the reigning Queen Nancy Inyama was recently engaged by her man.
The light skinned lady could not resist the tempting proposal for marriage that came with a posh car.
As spotted on her instagram page, Queen Nancy who will be handing over this August took to her account to post her proposal gift and passionate kissing spree image of herself and her man. Well, it's a good news but we would not want to hear stories that touch with regards to one of its former Beauty Queens who openly denied her fiance on social media when the going was rough.
Though, there has been cases of beauty queens who flaunted their relationship on social media in several locations like Dubai, South Africa, Obudu Cattle Ranch etc but eventually parted ways. The question is, do you think it is right for a reigning beauty queen of a reputable brand to display romantic love jamboree on social media? Well, we are eagerly waiting for the wedding bells to ring so we can storm the venue to wine and dine with them.