High School Musical Reveals Nigeria's Troy and Gabrielle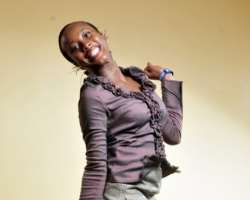 One whole year spent pursuing the license. Another spent on marketing. Then months of preparations, and endless weeks of auditions; before finally selecting 32 young men and women who have spent many weeks together under a round-the-clock training sessions for music, dancing and acting, by four high profile tutors; Kaffy (dance coach), Tarilla Thompson (director), Stella Damasus (voice coach) and Emmanuel Ayalogu (acting coach). History is now set to be made on Thursday May 27.
The members of the fourth realm of the estate present at the media unveiling of Troy and Gabrielle of the Disney High School Musical held at the Eko Hotel's Abora Hall yesterday (Sunday 23rd) marvelled at the outstanding performance of the cast. The performance Kaffy described as a tip of the iceberg was jaw-dropping, coming from Nigerian talents – who, prior to auditioning for the project, had little or no experience in acting.
The organizers unveiled the lead characters after a long anticipation. Minjin Adewale Lawson as Troy and Theodora Odinenu as Gabrielle- two young youths in High School with separate clique mates, who admired each other and later became lovebirds.
It was more like an appetizer performance than a tip of the iceberg. It was classic and exciting; blending with the mood of the evening. Ladies and gentlemen clicked glasses and exchanged banters during the cocktail held at Eko Hotel, in Lagos.
Some the tutors expressed their challenges in perfecting the acting and choreography, 'I took extraordinary measures I had to work with, they're not like the usual professionals I work with, I had to teach them over and over again. It was really challenging' Nollywood director, Tarilla noted.
CEO of KiDZ Trust, the exclusive License holder of the worldwide Disney hit production in Nigeria; Sheila Okonji Ashinze who flew in from New York that evening couldn't hide her enthusiasm after the contestants displayed a brief of their seven weeks outcome. She recounted the rigorous process in securing the license to have the show staged in Nigeria.
'When we were negotiating for the license it was really tough. Disney gave us a lot of problems coz they only knew Nigeria in bad light but we had to convince them over again before we finally got the license', Sheila told NET.
'When people call artistes like M.I, P Square and other big artistes for shows I want them to be able to call the High School Musical Band too. They are a band now and they will be together for one year, then we'll have a fresh crew', she added.
The Disney High School Musical show will be staged on Thursday, May 27, 2010 in Lagos and on May 30 in Abuja. Comedian Ayo Makun (AY) and ace rapper M.I have been penciled down to host the show respectively.