New Music: Seyi Shay- Weekend Vibes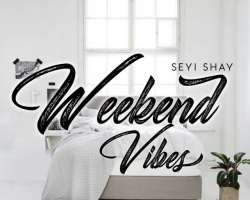 The much anticipated new single by Nigerian singer and songwriter Seyi Shay is finally here!!!
Produced by Kriz Beatz, with Femi Leye on the guitar giving it a live feel; the sound is nothing like Seyi Shay has ever released before.
Weekend Vibes tells the story of the addicted lover who can't get enough and this banging tune puts her in a league of he own, whipping up magic while experimenting with different sounds thereby letting us in on how versatile she is.
With a successful club tour and a major demand for the the song you can finally get it HERE.
1. Music Plus - http://bit.ly/2pFABNL
2. Itunes - http://bit.ly/2madsolutions
3. Boom Play Music - http://www.boomplaymusic.com/share/album/193724
SOCIAL MEDIA:
Facebook - @iamseyishay
Twitter - @iamseyishay
Instagram - @iamseyishay