Comedian Last Prophet Involved in Fatal Car Crash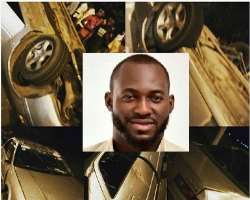 Cross River based comedian cum OAP, Friday Awade better known as Last Prophet has just cheated death after he was involved in a fatal accident few hours ago as he was returning from work.
Although how the whole accident happened was not stated, but the comedian revealed that he and other two occupants in the car are doing fine and no need for any medical attention.
While thanking God for life, he explained that although he has lost his car but the life he still has is worth more than the car.
"Hello friends! Thank God for me, My Enemies almost Died yesterday Night at about 8:06pm. But I thank God I am Fine, No scratches, no medical condition, me and 2 others in My Car, we are fine. No Body can take a Life I have handed over to God already, you can't Kill a Dead Man. CAR GONE, BUT OUR LIVES ARE INTACT. The Good news is, I see a new and Better car Coming soon ENEMIES WATCH OUT! #thanksgiving Join me in saying hallelujah to the angels in heaven," he shared.
His wife on the other hand is still in shock as to how the accident happened and his hubby and friends were able to come out alive without a scratch but thanked God for not making her a widow at young age.
In her words, "What more can I say than oghene thoooooi onise iyanu the miracle God may your name be praised I am too young to become a widow nor my son been fatherless it's too early."