IRANIAN FILM DIRECTOR JAFAR PANAHI IS RELEASED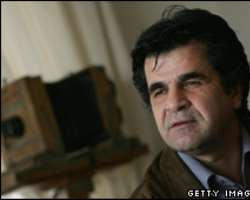 Jafar Panahi was released on bail from Tehran's notorious prison
Iran has released film director Jafar Panahi after more than two months in custody.
The acclaimed film-maker had been held in Tehran's Evin prison after voicing support for an opposition candidate in last year's disputed election.
He was released on a bail of $200,000 (£140,000), it was reported.
His case has been referred to a revolutionary court, and he may still face trial, the official Irna news agency said.
He had been on hunger strike for a week to protest against his detention.
Mr Panahi's films are known for their social commentary. He has been a vocal critic of Iran's strict Islamic law and government system.
The writer and director was arrested in March along with members of his family, but the Iranian authorities maintained that his detention was not political.
Mr Panahi's family were released shortly after their arrest.
Cannes protest
Mr Panahi has won awards at the Venice and Berlin Film Festivals, and was due to be acting as a member of the jury at this year's Cannes Film Festival in France.
Analysis
Continue reading the main story
Vincent Dowd
Arts reporter, BBC News
It was indicative of Mr Panahi's tense relations with the Iranian authorities that in February he was reportedly refused permission to attend the Berlin Film Festival.
Seven years ago, the director won a major prize at Cannes for his film Crimson Gold, which covered the privileged life of Iran's elite.
His best-known work, though, is probably The Circle, made a decade ago, which focuses on the treatment of women in Iran and took the top prize at the Venice Film Festival.
His films' often critical view of his country – perhaps combined with their success around the world – made him unpopular with some in power in Tehran.
International pressure had been growing on Iran to release Mr Panahi, and he was the subject of an impassioned protest by actress Juliet Binoche as she accepted an award at the festival.
Abbas Kiarostami – perhaps the best-known Iranian director internationally – spoke at Cannes about Mr Panahi's imprisonment for a film he is said to have been working on.
Mr Kiarostami said he did not understand how a film could be a crime.
The Iranian authorities have clamped down on dissenting voices since protests flared over the disputed elections last June.
There have been reports of at least 30 protesters being killed in clashes since the polls, although the opposition says more than 70 have died.
Thousands have been detained and some 200 activists remain behind bars.
At least nine have been sentenced to death, and two have been executed already.