PSC Restores Ribadu's AIG Rank, Retires Him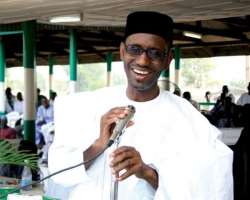 PHOTO: MALLAM NUHU RIBADU.
San Francisco, May 24, (THEWILL) – The controversy surrounding the fate of the pioneer Chairman of the Economic and Financial Crimes Commission Chairman, Mallam Nuhu Ribadu's police career was finally solved Monday when the Police Service Commission (PSC) bowed to pressures from Nigerian President, Dr. Goodluck Jonathan to review his dismissal with a bid to reversing his sack from the Police Force.
The commission reinstated Ribadu's Assistant Inspector General (AIG) of Police rank and backdated his retirement with immediate effect from the force to December 22, 2008.
Ribadu was dismissed from sometime in December 2008 for "Acts of gross indiscipline, insubordination and absence from duty" by the force authorities.
THEWILL gathered from multiple sources that President Jonathan who was being pressured by the western governments especially the United Kingdom and the United States to do something about Ribadu's dismissal had last week invited PSC Chairman, Mr. Parry Osayande to his office for a meeting on the matter.
Jonathan had urged Osayande and his team at the commission to take another look at Ribadu's case with a view to undoing his sack. After deliberations, it was agreed that due process be followed for a review to begin; Ribadu would have to write the commission a sort of remorseful letter urging the body to review and reverse his sack.
THEWILL was unable to confirm as at press time whether it was Ribadu who wrote or his lawyer, Mr. Femi Falana. A plea letter was reportedly received by the commission on Friday where Ribadu promised to withdraw all the law suits against the force for his dismissal.
Presidency sources said Ribadu will be appointed a Special Adviser to the President on corruption and graft in the Jonathan Presidency to give the president's anti-graft fight credibility and international backing.
THEWILL has been unable to reach Ribadu, who is currently in the United States. He has not responded to an email we sent him over the weekend when we got wind of his reinstatement and retirement from the force.