Tinubu deploys N500 million to discredit Ekiti Tribunal Judgement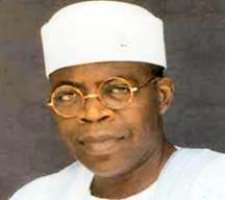 Bola Tinubu
Former Lagos State Governor, Senator Bola Tinubu has deployed both human and material resources for the task of discrediting the majority judgment delivered by the Justice Mamma Barka-led Ekiti State Rerun Governorship Election Petitions Tribunal with a view to preparing grounds for his planned procurement of favourable judgment for the Action Congress (AC) Governorship Candidate in Ekiti State, Dr. Kayode Fayemi a the Appellate Court, the Elections Transparency Group (ETG) has alleged.
ETG, in a statement issued yesterday and signed by its Chairman, Dr. Kazeem Adekunle and made available to journalists said a sum of N500 million has been budgeted to carry out the assignment, adding that;"Tinubu and his Think-Tank met in Lagos on Thursday last week at Alesh Hotel, Ajah where it was agreed that Tinubu's media machinery must be deployed to discredit the majority judgment."
The group however warned that the opposition AC and its sponsors must not be allowed to drag the judiciary into the mud, saying; "Those whose habit is to disparage the judiciary whenever judgment goes against them and hail the institution when they get favourable judgment are enemies of democracy in Nigeria."
"At a meeting held at Alesh Hotel, Ajah Lagos last Thursday, strategies to discredit the majority judgment delivered by the Justice Hamma Barka-led tribunal validating the election of Governor Segun Oni of Ekiti State were hatched.
"Apart from Tinubu, the meeting was first scheduled for Akodo, Eleko Beach and later relocated to the hotel because Lagos State Governor, Babatunde Fashola also fixed a meeting for same day with his aides at Akodo. It had in attendance Niyi Akintola (SAN), Justice Inumidun Akande, Prof. Itse Sagay, Femi Falana, Muiz Banire, Toyin Pinhero (SAN), Young Arabamen, Yinka Odumakin, Dele Alake, H.O. Davies, one Teblik amongst others.
"It was agreed at the meeting the massive resources (both financial and human) must be deployed to 'rubbish' the judgment one, because of the impending judgment at the Osun State Tribunal and Fayemi's impending appeal."A sum of N250 million was budgeted for newspaper editorials while N50 million will be made available to newspaper columnists. A group of selected legal practitioners are to be given N80 million for newspaper comments and television appearances on the judgment."Some self-professed pro-democracy and human rights groups like Campaign for Democracy (CD), Afenifere Renewal Group (ARG), Coalition of Oodua Self Determination Groups (COSEG), Journalists (JODER), are to play active role in the plot too. It was for this reason that one Dayo Ogundana was at the meeting and N70 million was provided this purpose.
"The Nigeria Bar Association (NBA) was left out of the plot because the association leadership still nurse grudges against Tinubu over the inclusion of the NBA in the allegation leveled against Governor Fashola.
"Already, one national dailies that published a 'favourable' editorial has paid N20 million while top editors in the newspaper owned by Tinubu, which first published an editorial on the judgment allegedly got  N10 million for their 'patriotism'. "Also at the meeting, Odumakin's 'service charge' was raised to N500, 000 per month while N1.5 million was approved for his office monthly upkeep," ETG alleged.
While describing the plot as evil, the ETG said; "It is sad that people who claim to be democrats and human right activists are the ones working with Tinubu to ridicule the judiciary and major institutions in this country. We are not surprised however, because we know the antecedents of Tinubu, who has for a long time successfully used blatant lies, deceit, blackmail, betrayals, bribery and other heinous acts to achieve political and economic successes." "It is however imperative to assure that this latest plot to advance Tinubu's desperate bid to extend his political territory to Osun and Ekiti States by all means will mark the beginning of his political nemesis.
"Those collaborating with him should therefore have a rethink because his (Tinubu) nemesis will come sooner than expected and it will surely consume all those being driven not by the love for Nigeria but the crumbs they get from him."