Group Wants Jonathan To Run For 2011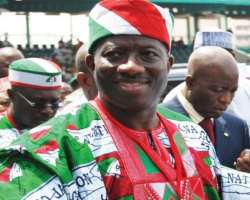 PHOTO: PRESIDENT GOODLUCK JONATHAN.
ABUJA, May 23, (THEWILL) - A non-governmental organization known as Northern Friends to the South-South (NFSS) has urged Nigerians to disregard the zoning formula and support calls to persuade President Goodluck Jonathan to contest the 2011 election.
Co-coordinator of the group in Abia State, Chief John Ugochukwu Nduwuisi, who stated this in Abuja on Sunday while addressing newsmen said leaders should be chosen based on performance and not on zoning.
He said Jonathan is a detribalized person who has shown sterling leadership qualities and should be made to see made to see reasons why he must contest which he said is in the best interest of the nation.
"The president is the right leader the country needs now and beyond for the much needed development and transformation. He is a man who has shown that he has great passion for the development of Nigeria and we must make him to see reasons why he should continue in that office by contesting the 2011 election," Nduwuisi said.
He said Jonathan has shown a mastery of the problems of the country and is well equipped to achieve the massive industrialization of the country and should be convinced to stay beyond 2011.
NFSS observed that the President in the last few months have shown a rare commitment to improve the power sector which is the hub of the country's economic development adding that this is indicative of his intentions to revamp the economy and put the nation back on the part of prosperity and growth.
The group however urged Jonathan to draw from the experience of past leaders, in order to get more information on ways to move the nation forward.