NLC VERDICTS ON LEADERSHIP, NIGERIA NOT FOR SALE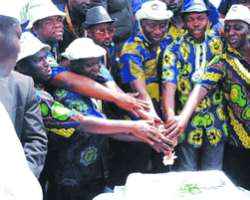 May 1, every year, since 1980, when the Peoples Redemption Party, PRP, government in Kano under the leadership of the late Abubakar Rimi, as governor, first declared it a public day, has remained a day of stock-taking for Nigerian workers, with a view to coming up with strategies to confront challenges.
In recent times however, especially the periods that saw the military holding sway in Nigeria , the Nigeria Labour Congress, NLC, the major umbrella body of all workers, became a rallying point for Nigerians, as workers not only provided the platform, but also led the way in the struggle to salvage the country's situation.
In spite of a few betrayals in-between by some labour leaders, NLC has to a large extent, remained consistent in its struggle to not only entrench a just and egalitarian society, but has continued to keep hope alive in its struggle to enthrone the culture of good governance, responsible and purposeful leadership in the country.
All these, may have informed the choice of the theme for this year's celebration, tagged: '50 years of Nigeria's nationhood: Challenges of national unity, credible elections and good democratic governance.'
The celebration, which kicked off with a pre-May Day lecture, delivered by another radical scholar and incumbent Vice Chancellor of Bayero University, Kano, Prof. Attahiru Mohammed Jega, also afforded the NLC the opportunity to re-iterate its stance on deregulation, which in recent times, have been misconstrued for its tacit support on the contentious deregulation of the downstream sector by the Federal Government, insisting that it was more than ever ready to 'challenge any fresh attempt to increase fuel prices under whatever guise.'
Delivering his lecture, which was centered on the theme of this year's celebration, Prof. Jega noted that at independence, hopes were high, so also were the aspirations, as the country was professed to be one ordained to play crucial roles for the progress and development of the world, being a natural leader in the African continent, owing to its size and endowed human and natural resources.
He was, however, stated that 50 years after, those who have led the country appear to have dashed the hope, adding that 'weak economic and political structures, ineffective institutions and processes, quarrel-some, lawless, inept and corrupt public officers, have all combined to undermine Nigeria's global rating on virtually all accounts in the past 50 years.'
In spite of the obvious failures, and the inability of Nigeria to lead the way, Jega noted, many Nigerians, especially leaders are still presumptive about the country's leadership role in Africa, as many of these 'perceptive observers and scholars think otherwise.'
Quoting reputable Nigerian scholars and politicians alike like Soyinka, Osaghae and Adebanjo, Jega gave other phrases currently being used to describe Nigeria, especially in its relationship with the international community as a 'a crippled giant,' 'open sore of a continent,' and 'a giant with clay feet.'
He said that 'domestic instability, insecurity and generalised poverty have been the dominant features of the Nigerian political economy. With a projected population of 159.4 million in 2010, Nigeria is one of the 10 most populous countries in the world. Its population represents 1¼4 of that of sub-Saharan Africa and 1/5 of the black race.
'With an estimated GDP of $183 billion (in 2008), and a growth rate of 3.8 per cent, and abundant resources, it is potentially Africa 's largest economy. Yet, Nigeria is one of Africa 's most chronically unstable and conflict-ridden countries. Multicultural diversity, which could have been a formidable asset, has been complicated by negative elite mobilisation of ethnicity and religion, mediated and compounded by one of the highest incidences of poverty on the African continent. In spite of attempts by the Obasanjo (1999-2007) and Yar'Adua (2007-2010) governments since 1999 to 'eradicate' poverty, the statistics still point to a bleak picture, with incidence of poverty standing at about 70 per cent,' Jega said.
Industrial growth rate, estimated at -1.8 per cent, with capacity utilization in manufacturing continuing to flounder, Jega noted, has contributed greatly to very high levels of unemployment, with life expectancy put at 55 years and overall literacy rate at 64 per cent.
He said that Nigeria has continued to be over-dependent on the oil sector, which still accounts for 95 per cent of the country's foreign exchange earnings and 80 per cent of budgetary revenues, saying however that 'the oil revenues have not been properly harnessed for socioeconomic development, as evidenced by dilapidated infrastructure, chronic power outages and institutional decay.'
Jega ended up not only putting the myriad of factors militating against Nigeria 's development in proper perspective, but was equally magnanimous in proffering solutions to the challenges. And one way he noted that could be done was to drag 'good, respectable and responsible people' into politics.
These set of people, he said, must form alliances with 'people of like minds, on the basis of clearly set and achievable goals and principled conduct,' adding that 'the starting point in the creation of an enduring framework for national unity, credible elections and good democratic governance is to address the poverty of leadership at all levels. Admittedly, this is easier said than done, but despite the difficulty, it can and must be done.'
Apparently taking a cue from the challenge thrown by the Guest Speaker, a day preceding the May Day, NLC President, Comrade Abdulwahed Omar, on the day of the celebration, before the very eyes of then acting President, now President Goodluck Jonathan, expressed the readiness and preparedness of workers to ensure and defend free and credible elections in 2011.
He said the NLC would engage in actions that have never been witnessed in Nigeria's history before should the politicians decide to foul the electoral process again in 2011.
Reviewing the 2009 May Day, Comrade Omar said: 'In our 2009 May Day address, we declared that: '…a people who are not mobilised for positive change will always complain about how their lives could have been better but how it is so much worse than even their worst expectations. We should stop complaining. Our new slogan should be 'organise: Do not agonise!'
'Organising is not only the way forward for our movement; it also calls for the resolution of a number of issues. One of these is defining our relationship with the struggle for power in the nation. Working people cannot and must not be indifferent to the question of who governs. If working people govern the country, the majority of the problems that we complain about will be solved. Therefore, organising can only mean that we must become involved in politics in such a way that working people take over the reins of government and state power.
'This is all the more important as we approach the 2011 general elections. We wish to state that Nigerian workers are prepared to defend free and credible elections in 2011. Our movement will engage in actions such as this country has never seen in its history should the 2011 elections be rigged or characterized by fraud. Let this, therefore, be a warning to the political leadership.
'We will no longer tolerate election rigging and the imposition of fraudsters on the people as leaders. We will no longer tolerate the image as a country that conducts the worst elections in the world. 50 years of apprenticeship in the workshop of rigging elections is enough for us to have learnt our lessons. Let me restate this: the labour movement will not accord legitimacy to any government that rigs its way to power in any future election,' Omar added.
Comrade Omar did not just arrive at the above conclusions, like Jega, he also spoke the issues at stake. But unlike Jega's lecture, President Jonathan was all ears for the over one hour it took Comrade Omar to deliver his 19-page address at the Eagle Square , Abuja .
After taking the audience through the challenges faced by the NLC, especially during the military regimes, vis-Ã -vis the successes recorded, against all odds, including the struggle to bring back Nigeria from the abyss, the NLC president opined that there are still several challenges confronting both the workers and the country, which the NLC, as a movement, must respond to.
He said that the need to respond to these challenges became imperative considering the fact that they pose great danger and consequences for the country and the workers' union, adding that 'without our intervention, it will not only be a situation in which we are not proud of our country, we will not even have a country at all, let alone a movement. To prevent this and ensure that we continue to play the patriotic role that we have played over the last 50 years and more, we will need to take actions on the following: political leadership, direction of the economy and labour conditions.'
One of the reasons for the failure of political leadership in the country, according to the NLC president, was the way and manner political leaders emerge. He said that recent Nigeria history indicate that the majority of those in political leadership were thrown up through 'a heavily flawed electoral process,' a situation he noted forced Nigerians to clamour for electoral reform.
He noted that over the last two years, government appears to be foot-dragging in the implementation of the recommendations of the Justice Uwais Report on Electoral Reforms to their logical conclusion.
To this end, he said: 'we want to encourage government to see that implementing the programme of reforms is the surest path towards ensuring that the disaster that many have foretold will befall the country will be averted. It is the only way to returning to the path of building a sustainable and robust democracy that can meet the challenges in our political economy.'
He called on all Nigerians to identify with the NLC in demanding and ensuring that the electoral reforms are carried out by government before the 2011 general elections, saying that the 'NLC will mobilise the entire country to ensure that no stone is left unturned in securing the needed reforms.'
On the economy, Nigeria's foremost worker wants the government to strengthen its relationship with countries such as Venezuela which, he noted, has under its current leadership shown how oil could be transformed from a curse to a blessing, adding that in the early 1980s, labour led a campaign for government to own and control the major activities in the oil sector. Labour's views, he said, were captured in a historic document titled, 'Nigeria Not For Sale.'
He noted that 'we still maintain that Nigeria is not for sale and that ownership of the major assets should be vested in government. This is what has happened recently in Venezuela and the positive results from the policy are there for the world to see. 'We have also stated in very clear terms our opposition to deregulation. Our stand has recently been misunderstood and misrepresented as indicating support for government's policy of deregulation. Our stand is that government cannot deregulate until certain conditions are met. One of these conditions is that the refineries must be in good order. Another is that all crude oil consumed in Nigeria must be refined in Nigeria , rather than refined abroad and imported into Nigeria . We have also questioned the figures on subsidy provided by government to justify deregulation.
'We wish to note that reform of the oil industry cannot be successful or meaningful until we reduce our dependence on crude oil as the mainstay of the economy and resolve the crisis in the Niger Delta. A situation where earnings from crude oil provide over 80percent of foreign exchange earnings portends great danger for the country.
'This has been amply demonstrated by the crash in crude oil prices that occurred as part of the global crisis of capital from 2008 onwards. We must diversify the economy by paying more and urgent attention to other critical sectors such as agriculture, solid minerals, manufacturing, iron and steel,' the Labour leader, who kicked against the continued supervision of the power sector by the President on the grounds that it was not likely to yield any positive result, especially against the background of Obasanjo's role as Petroleum minister, which made no difference during his era, said.
Responding, President Jonathan who said this year's Workers' Day celebration coincides with the country's Golden Jubilee, as an independent country assured that the federal government was working assiduously to address issues of employment generation, Niger Delta crisis, electoral reform, power supply and other requirements that would accelerate national development.
He said 'for me, I promise honest service. I will give all my heart and mobilise every available talent of Nigerians wherever they are to meet the expectations of our people. As we are going into an election year, the issue of credible of election is top on my agenda to national liberation. 'I have taken the challenge of an inadequate power supply, peace and rapid development of Niger Delta, food security as well as overall security of all Nigerians and promoting credible elections as priorities in the concluding months of this administration,' even as he gave the workers the assurance that his government would give Nigerians free, fair and credible elections in 2011.
While noting that his presence at the May Day rally was a demonstration of his administration's belief that to build a strong democracy, there must be a virile labour movement, President Jonathan further said that no nation could develop beyond what the collective efforts of its working population could present, adding that 'the rate and size of a country's development is dependent on the size of its economy and therefore the need for an expanded economy for the good of our people. There is an on-going effort by government to create a new Nigeria anchored on social justice, industrial peace and harmony, due process and the rule of law, as such we are calling for a collective effort to achieve a solid and prosperous nation.'