Okafor's Law Top Box Office in First Week Showing at the Cinemas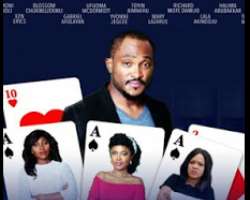 Everyone knew that Omoni Oboli's 'Okafor's Law' movie would do well as her previous works did but after the court injunction saga, no one was sure anymore. The movie topped the box office record for last week and currently topping this week also. It is undoubtedly the highest selling movie at the cinemas presently beating movies like John Wick, Beauty and the Beast, Kung: Skull Island, Life, Logan, Pathetic and Ojukokoro.
Top online media channels such as PulseNG, BusinessDay, 360Nobs and OlisaTV have published reviews that gave the film an average of 8/10.
Okafor's Law is Omoni Oboli's fourth production and it is in its second week at the cinemas. OmoniOboli has been touring cinemas in different parts of Nigeria to meet and greet fans who come out to show support for Nollywood movies.
See the full cinema showings for Okafor's Law in the images attached.
Okafor's Law Trailer: