Judge Warns Bolingo Hotel, Abuja, In Copyright Case Brought By Coson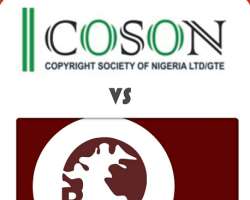 A Federal High Court Justice, A. R. Mohammed sitting in the Federal Capital Territory has expressed his displeasure at the conduct of the owners of Abuja based Bolingo Hotel in the multi-million naira copyright infringement case brought by Copyright Society of Nigeria (COSON) against the hotel.
When the case was called on Thursday, March 30, the renowned copyright activist and COSON Chairman, Chief Tony Okoroji was in court for the copyright collective management organization. Austin Ezendu Esq, an Abuja based legal practitioner, also announced appearance for COSON.
One Henry Mba who told the court that he is the Front Office Manager of Bolingo Hotel, told the court that he was representing the hotel. The hotel had no lawyer in court even after several hearing notices had been served on the hotel.
Mr. Ezendu, lawyer to COSON, announced that he was ready to proceed with trial as his only witness, Chief Tony Okoroji who had come in from Lagos several times for the case, was in court. Saying that justice delayed is justice denied.
Mr. Ezendu who told the court that to all intents and purposes, the case is an undefended matter, said that since 2014 when the case was filed and the processes served on Bolingo Hotel, the defendants had neither filed a statement of defence nor any other processes whatsoever. He said that the case had suffered about fifteen adjournments because of the behaviour of the defendants and the time had come to conclude it.
A visibly angry Justice Mohammed warned that he will proceed with trial on the matter on the next adjourned date whether Bolingo Hotel was represented in court or not. He fixed definite trial for May 24 and awarded cost in the sum of fifty thousand naira to COSON.
Speaking outside the court, Chief Tony Okoroji, the former President of PMAN, said that East, West, North and South of Nigeria, those engaged in the abuse of the intellectual property rights of creative people in Nigeria are feeling the heat.