My father's reputation as an actor has opened doors for me –Dr. Sid, son of movie star, Justice Esi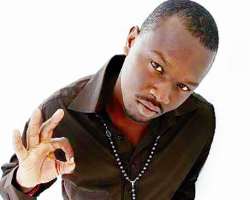 Dr. Sidney Esiri, a.k.a, Dr. Sid, is a music artiste. He speaks with Ademola Olonilua about life as the son of ace Nollywood actor, Justice Esiri, his career, and the rumoured feud among members of the popular Mo Hits crew.
Tell us about yourself
I am known as Dr. Sid, but my real name is Dr. Sidney Esiri. I graduated from the University College Hospital, Ibadan with a Bachelor's degree in dental surgery. My dad is Justice Esiri, the actor. I attended Airforce Nursery, Primary and Secondary School before I moved on to the university. I am the second son among four children. I was a back up dancer for the group known as Trybesmen. My first recorded song is titled 'Oya'. It was recorded in 2002. I recorded a couple of singles while pursuing my solo career and working as a dentist. I was on housemanship at the Lagos University Teaching Hospital and later, deployed on National Youth Service in Yola, before I finally decided to put that behind me and join Mo Hits Records. The first project we worked on was the CV album, in which I did about seven tracks. Also I featured in Wande Coal's music album and I have been touring and performing with D'banj and the Mo Hits All stars. We started recording my album in April 2009 and released the first single in October. We also shot the video for 'Something about you', which was released in October. We have been promoting those singles until the album was first released online on i-Tunes, on April eleven, and on May 1, which was my birthday. That was when the CDs first hit the street.
You did national youth service in Yola. What was the experience like?
The whole point of you serving is to experience other parts of the country. For me, it was more like a reality check. A few people knew me because I went there with some of my classmates. I was the artiste in the camp. So during the variety night, I performed some of the tracks of Trybesmen. Although it was a nice experience, it did not win me any points with the soldiers.
How did you relationship with the Trybesmen begin?
When I was with a dance group in the University of Ibadan called Rockforce, the Trybesmen were looking for back-up dancers. Then we came to do a show in UniLag and they liked the choreography. ELdee asked if I would like to join Trybes Records as a choreographer and back-up dancer. That was how I began to shuttle from Lagos to Ibadan to do shows.
Why did the Trybesmen break up? What happened?
Freestyle wanted to do his own thing. ELdee had put so much into the music industry and was not getting anything in return. So ELdee went back to America. Freestyle did his own thing and I went back to dental school. Everybody decided to do their own thing. Sasha and 2shot eventually moved to Storm Records. ELdee had a mangement deal with Storm Records, KB started work as an engineer, and Timi went back to dental school. He has finished now. We are still very close and we keep contact with each other.
Why did you not continue with ELdee's Trybes Records?
When ELdee left, KB, 2shot and myself actually tried to keep things going. But everybody was already set to go to their separate ways. So it was difficult to keep the group together. In 2 004 when I met D'banj and Don Jazzy in London and we became friends. When we got back in 2006, Mo Hits Records was already very successful and they where planning to expand the record label. ELdee was still abroad and Don Jazzy was practically the hottest producer in the country. Besides, we had a good relationship. Naturally I had to join them. So far, I think it was a good decision.
How come your job at Mo Hits is to act as a back-up for Wande Coal and D'banj?
When we did the Mo Hits All Stars project, the idea was to push Wande Coal forward as the next artist to come out after D'banj because we had a line up of artistes. If you check the Mo Hits CV album you would see D'banj as the driving force and Wande Coal was the ariste that featured in almost all the songs. He was the artiste that was to be released after D'banj's next album. When Wande Coal's album came out, I featured in one of the songs. Wande Coal was just starting out as a solo performer and I was his back-up. The idea was to add vibe and energy to his performances. Wande Coal has now developed into an artist who can stand and hold his own at any concert and I have to focus on myself.
Is the Mo Hits arrangement you just mentioned still in place?
Now that we have moved on from the group phase to the individual artiste phase, what Mo Hits Records is trying to do is sell each individual artiste as a single brand. You have D'banj who has his own individual brand, the 'Koko' brand. Wande Coal has his own brand, too, and we are working in another direction for his own personality and his brand to move on. Next, we are selling Dr. Sid as an individual artiste. So you can have five different shows in Lagos and have D'banj in one, Dr. Sid in one, Wande Coal in another and D Prince in one. That is what we are trying to do.
Why did you leave dental surgery for music?
I have always had a flair for music and dancing. I have always been the dancing type and the musical chair at parties. I have been winning dancing contests since I was a boy. It was only natural that one of my Dad's children would get involved in entertainment. I studied dental surgery because I had a passion for science. I am a curious person. I had a passion for engineering, but I really did not like mathematics. I was either going to study dental surgery or medicine. But I ended up with dental surgery because it sounded more interesting and exciting. I like to work with my hands. I am into IT and I love creativity. Dentistry is more like an art because you must be imaginative to repair a tooth . At some point in time I always had this urge to focus on entertainment. But I told myself that I would do possible to get my degree and my liecence. Dentistry was my back-up, in case whatever I tried to do did not augur well for me. I stuck to music and entertainment because they were my true desire. So far, the result has been good and there is no reason for me to pick up the stethescope and scapel again.
Do you plan to go back to dentistry?
Not in the near future. I am enjoying what I am doing.
How does is it feel like being the son of Justice Esiri? has it influenced your music in any way?
I am used to being in the limelight because of the kind of father I have. I think he is one of the best actors, if not the best, in Nigeria. Being his son has brought me favour and opened doors for me in different places. Initially my Dad did not like the idea of quitting dentistry for music. Like most parents, he did not understand why I did that. But having see how dedicated I was and how sucessful I have become, he is very supportive. The way he carries himself as an actor has influenced me a great deal. Although many people think it is easy to allow success and fame to get to your head, my dad knew the value of his brand and yet understood that he had to connect with ordinary people because they made him what he is today.
Do you think your father would have wanted you become an actor?
My dad would have wanted me to be a dentist. Acting is still an open choice because the beauty in being an entertainer is that if you have the talent and the gift, you can always cross over to any other field. Half of the time we are acting. So I do intend to go into that sometime in the near future.
Did your father make any effort to prevent you from going into music?
No.
And your mother?
My mother is my biggest fan and supporter. She is my rock and pillar. All that she is interested in is my happiness. She advises me and prays for me. She helps me stay on a level plane and makes sure I do not forget where I am coming from. She is actually very important to my career. She is a very private person, a fashion designer. She is probably the one that made most of the clothes that my Dad puts on. She actually influenced my sense of style to a large extent. I believe she is proud of having me as a her son . When you go out and people recognise your child or your husband, it is feels good to see people appreciate them.
Why did you give your music album the title, 'Turning Point'?
Dr. Sid is a new artiste and thatsignifies a change from being a member of a group to an individual artiste. It signifies a change from being a guy who used to be strictly a rapper to a full-fledged singer and rapper. That is basically a turning point in my career and in my life.
Where do you draw your inspiration from?
At Mo Hits Records, we inspire each other. We share ideas.
How has it been working with Mo Hits Records?
Don Jazzy would be in the studio creating a beat and we all would be there. Some of us would be singing different songs and choruses and we would settle with the one that we are comfortable with. We pick the song and everybody translates them into verses. We present our verses, criticise the song, make changes, get people to listen to the song, get feedback, and work on it a bit more.
What caused the feud between Don Jazzy, Wande Coal and D'banj?
It is all a rumour. For instance, people were saying D'banj did not allow Wande Coal to blow. We have contracts with Mo Hits Records and our success is crucial to the success of the records label. D'banj is a very shrewd businessman and he knows that if Wande Coal is successful it is good for the company and for himself. So it is absolutely ridiculous when you hear that D'banj is not allowing Wande Coal to blow. It does not make sense. Besides, I can tell you that it is absolutely impossible for both D'Banj and Don Jazzy to quarrel because those guys are tighter than five and six. They started the records label from the scratch and so, do not need to argue. If one offends the other, they they sort it out within seconds.
Even with the age bracket?
What age bracket? The strenght of Mo Hits lies in our unity and we know that. We may disagree on certain issues, but we never allow that to affect our unity because we know that once we know there is a division it would affect each of us. We live together, we go out together, watch movies and play video games together. We do practically everything together to tighten that bond.
Did you at any time regret your decision?
Never. Even before I joined Mo Hits Records, I was making more money compering shows than I would have made working as a dentist in one month.
Do you have a girlfriend?
No.
What happpened between you and you girlfriend?
Things did not work out. She is in a different continent. I am busy with work and she is in school. A lot of work goes into a relationship and if you do not have the time, it willsuffer. To me work is more important, I do not think it would be fair going into a relationship without giving the time and attention it needs.