Paparazzi harasses Muma Gee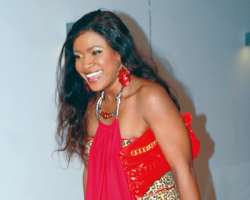 Fashion designer, Zizi Cardow, brought the high and mighty together at her fashion show in Lagos last Saturday. Indeed, it was a swell time for celebrities as most of them turned out for the event in their best attires.
Muma Gee, singer, was at the event. Expectedly, in her usual dramatic style, Muma turned the heads of virtually everybody with her mind blowing apparel. Her micro mini with a long train stood her out from a lot of guests.
While she is widely known for her wild dress sense, Muma still makes many jaws to drop each time she comes into an event. Last Saturday was no exception. Ladies gaped, men drooled, and Paparazzi had a great day.
One of the photographers, who had obviously taken more than enough shorts, may have felt he didn't get his work done from all the angles he wanted to, so he squatted and aimed to take a shot from underneath.
Sensing the lack of decency in the photographer's move, Muma Gee screamed, "What! Look at this guy! He wants to snap my underpants! He wants to take my picture from the floor!"
The obviously angry singer warned the photographer not to carry out his plan and angrily stormed into the hall.