Helen Ukpabio 'relocates' Nollywood to Calabar for new movie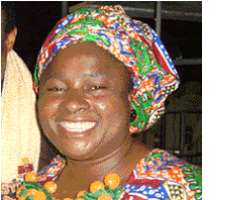 Head honcho of Liberty Films and Apostle of the Most High, Mrs. Helen Ukpabio, recently 'relocated' Nollywood from Lagos to Calabar, the capital of Cross River State, for the lensing of her latest movie. Entitled: Echoes of the Ancestors, the big budget movie that was painstakingly shot and recently completed; paraded some of the biggest names in Tinsel Town.
Directed by Fred Amata, who flew in from Lagos with all his crewmembers and sophisticated production equipment, courtesy of amiable Ukpabio, the shoot lasted for almost a month.
Among the leading names that thrilled Calabar indigenes while working on the set of Echoes of the Ancestors, include: Zack Orji, Yemi Blaq, Bob Manuel Udokwu, Enebeli Elebuwa, Vivian Anani, Moses Efret, Gentle Jack, Pat Oseni and a host of other up and coming thespians. Commenting on the expository flick, which is the 24th from her award winning stable, Ukpabio, also the General Overseer of Liberty Gospel Church, with headquarters in Calabar, said Nigeria and indeed, the entire world would gain and learn immensely from the well-scripted and researched movie. "In all my films, I try to preach and win souls for God. And that is why all my works are religiously expository.
Echoes of the Ancestors, in a nutshell; is about God's warning and the consequences on those that refused to listen and follow his words and way of life. Because whatever a man sows he shall also reap bountifully. If you sow good, your generation will reap it, but if you sow evil, even your generations yet unborn will also reap it in million folds…"
Continuing, Ukpabio, also a prolific author with several Christian books and literatures to her credit, disclosed that she intends editing the movie outside our shores. She also plans to tour major cinemas and festivals globally with the heart-wrenching movie before releasing it on DVD, for movie buffs to watch, applaud and learn from. "It gives me joy when homes are saved and sinners repented after watching any of my films. As an Apostle and teacher of the word, I preach and spread the message of God a lot, through my movies", declared the widely traveled filmmaker.
While speaking on the challenges encountered on the set of the movie, which was shot in both urban and rural areas of Calabar, its director, Fred Amata, submitted that Echoes of the Ancestors, was tasking and equally consumed a lot of resources and energy, because of their resolve to get the best out of the script, the cast and crewmembers.
He also commended Ukpabio for believing and investing heavily in the project, which he argued would definitely be a reference point within and outside Nollywood when released." I've directed several films for Apostle Ukpabio, but Echoes of the Ancestors, remains my most challenging in recent times. I also commend the tight and professional cast and crewmembers that worked with me on set, they were wonderful. And as a perfectionist, Ukpabio spent plenty of time and money on this big budget movie; we truly commend her efforts…"