Another Fab Feat! Genevieve Nnaji is the Face of MUD Cosmetics in Nigeria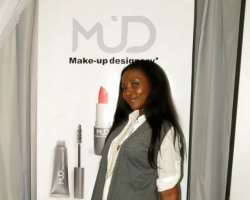 The Nigerian beauty industry keeps developing at an impressive rate. The latest entrant into the Nigerian cosmetic market is MUD Cosmetics and they have chosen superstar Nollywood actress, Genevieve Nnaji as the face of the brand in Nigeria.
Make-Up Designory (MUD) is an international make-up company that has been creating genuine make-up products and providing quality education for over the past decade. In the international community, MUD has been the expert choice of make-up professionals, as its renowned make-up schools have produced renowned make-up artists on a global scale. With a huge focus on true quality make-up, MUD promises long lasting wearability, flawless application, and radiantly accurate color.
At the press conference held on the 19th of May 2009, the co-Managing Directors of Bellezza Cosmetics and Spa (the official franchise owners and distributors of MUD in Nigeria), Chinny Onwugbenu and Onyinye Onwugbenu shared that "Bringing Genevieve onto the MUD team was not a difficult decision. A MUD woman represents beauty, grace, elegance, as well as glamour. Genevieve epitomizes all of the above, as her glamour and yet understated style has such enduring appeal to women of all generations.
Genevieve plays more than a role as the Face of MUD. She is part of the MUD family, and will be involved in every aspect of bringing MUD products into the make-up purses of every Nigerian woman".
This is not her first foray into the beauty industry. She represented international brand Lux as the face of Lux a few years ago. We are also happy with the recent spate of celebrity product endorsements. It shows that companies now value the star power and influence of the entertainment industry.
The MUD brand is all about making every woman look and feel like an icon. Over the next couple of months, we will be turning this dream into reality with so many exciting opportunities which include our infamous make-up seminars and workshops, one-of-a-kind fashion shows, as well as the launch of various MUD studios around Nigeria.