SOUTH KOREA PLANS 'PRUDENT' RESPONSE TO WARSHIP SINKING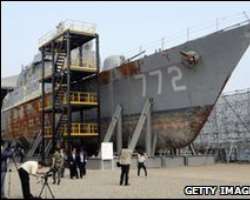 Foreign experts back the theory of a torpedo attack
South Korea's leader has told his security chiefs the response to the sinking of one of its warships must be "very prudent".
President Lee Myung-bak firmly blamed North Korea for the sinking when he addressed his security council.
It was a "surprise military attack from North Korea [that came] while South Korean people were resting late at night", he said.
Investigators said a torpedo hit the ship, killing 46 people.
US Secretary of State Hillary Clinton said on a visit to Tokyo on Friday that Washington "strongly" condemned the North and it must face international consequences.
It could no longer be "business as usual", she added, at the start of a week-long tour of Asia.
The president is due to outline his plan of action early next week and this is thought likely to include taking the evidence of an attack to the UN Security Council in an attempt to win support for tougher sanctions on North Korea, the BBC's John Sudworth reports from Seoul.
READ THE REPORT IN FULL
Continue reading the main story
PDF download
Investigation result on the sinking of Cheonan[72KB]
Most computers will open PDF documents automatically, but you may need Adobe Reader
Excerpts: Ship sinking report
The North would be "made to pay", South Korean Defence Minister Kim Tae-young told reporters at a separate briefing.
For its part, the North has dismissed the evidence of its involvement in the sinking, which includes parts of a torpedo found on the seabed, as "just fragments of aluminium of unknown origin".
However, there appears to be little doubt among other members of the international community because the conclusion that North Korea was to blame was backed up by experts from five other countries, our correspondent says.
'Resolute counter-measures'
President Lee told the security council the sinking of the Cheonan on 26 March had violated the UN Charter and the 1953 armistice which effectively ended the Korean War, his spokeswoman said after the meeting.