KIWI SHOT-PUTTER VALERIE VILI SET FOR BRITISH DEBUT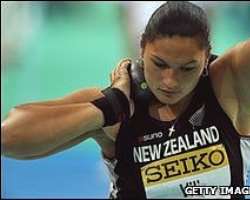 Vili is to make her London and Gateshead debuts this summer
Olympic and world champion shot putter Valerie Vili is to make her Gateshead debut in the IAAF Diamond League event at the International Stadium this July.
Vili, 25, won gold for New Zealand at the Beijing games as well as taking the top prize at the Osaka and Berlin World Championships in 2005 and 2007.
"This will be my first time competing in Gateshead and I am really looking forward to it," Vili said.
"I am certainly excited about throwing a series of decent distances."
"I have always been aware of the results in the Aviva British Grand Prix and they indicate a quality level of competition."
As well as competing in the North East, Vili will also travel to London's Crystal Palace stadium for the Aviva London Grand Prix in August.
I am also acutely aware that Crystal Palace must have a very serious stadium record
Valerie Vili on her hopes of breaking more records
Having won the 2006 Commonwealth Games in Melbourne with a record-shattering throw of 19.66m, Vili also has the London venue's 20.79m outdoor record in her sights ahead of the games.
"What can you say about competing in London, the world's foremost two-day meeting in arguably the world's most famous city," Vili added.
"I have never competed in London before and with the Olympics only two years away it will be a great experience for me.
"I am also acutely aware that Crystal Palace must have a very serious stadium record."