FLOYD LANDIS ADMITS TO DOPING THROUGHOUT HIS CAREER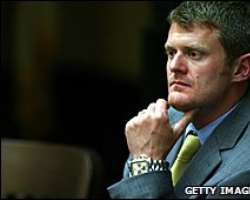 Landis spent several years fighting his doping conviction in the courts
Disgraced Tour de France winner Floyd Landis has admitted using performance-enhancing drugs throughout the majority of his career as a professional rider.
The 34-year-old American had initially denied taking illegal stimulants after he was stripped of the 2006 Tour de France title for failing a doping test.
But he has now admitted using blood boosters such as EPO, while riding for the US Postal Service and Phonak teams.
"I made some misjudgements and want to clear my conscience," Landis told ESPN.
"I don't want to be part of the problem any more.
"With the benefit of hindsight and a somewhat different perspective, I made some misjudgements. And of course, I can sit here and say all day long, 'If I could do it again I'd do something different,' but I just don't have that choice."
It is an astonishing revelation by the man who was banned for two years after his positive test at the 2006 Tour.
It is also alleged that he sent emails to USA Cycling and the sport's governing body the International Cycling Union (UCI) in which he implicated other cyclists and officials who he claimed were involved in systematic doping. I don't feel guilty at all about having doped
Floyd Landis
World Anti-Doping Agency are to contact the United States Anti-Doping Agency "and any other authority with appropriate jurisdiction to get to the heart of the issues raised."
UCI president Pat McQuaid added: "What's his agenda? The guy is seeking revenge. It's sad, it's sad for cycling. It's obvious he does hold a grudge.
"He made those accusations in the past. I have to question the guy's credibility. There is no proof of what he says. We are speaking about a guy who has been condemned for doping before a court."
A later statement from the UCI added: "The UCI regrets that Mr Landis has publicly accused individuals without allowing sufficient time for the relevant US authorities to investigate.
"An impartial investigation is a fundamental right, as Mr Landis will understand having contested, for two years, the evidence of his breach of the Anti-Doping Rules in 2006.
"The UCI will leave it to the individuals accused by Mr Landis to take the position they see fit with regards to this issue."
Landis revealed that he first used performance-enhancing drugs in 2002 when he was a member of the US Postal team.
He said that he had used testosterone, human growth hormone and female hormones, also making use of frequent blood transfusions.
He also confessed to a one-time experiment with insulin, although he pointed out he was never threatened or forced to take drugs.
"I don't feel guilty at all about having doped," Landis added. "I did what I did because that's what we (cyclists) did and it was a choice I had to make after 10 years or 12 years of hard work to get there.
"That was a decision I had to make to make the next step. My choices were, do it and see if I can win, or don't do it and I tell people I just don't want to do that, and I decided to do it."
However, he maintains the result of his test at the 2006 Tour, when he was riding for Swiss team Phonak, was inaccurate and that he had been taking human growth hormone and not the synthetic testosterone that he tested positive for.
"There must be some other explanation, whether it was done wrong or I don't know what," said Landis, who has spent an estimated £1.4m in fighting to clear his name through the courts.
"The problem I have with even bothering to argue it is that I have used testosterone in the past and I have used it in other Tours, and it's going to sound foolish to say I didn't."