Actress, Eniola Badmus Loses Father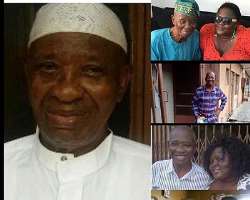 Nollywood actress, Eniola Badmus, is currently in tears as the actress has just lost her best friend and the man after her heart, which happens to be her father.
The actress while sharing the sad news was filed with tears as she could not hide her grieves. Lots of her colleagues and fans have been sharing their prayers with her.
It would be recalled that during her father's 85th birthday, the actress wrote, "I am what I am today only because of the presence of a special someone in my life. On your Birthday today, I fail to find enough words to express my gratitude and wishes for you. Let's raise a toast and celebrate your life as a kind, humble and generous father that you've been. Wishing you a very Happy 85th Birthday dad!" She said when he turned 85 last October."
May his soul rest in perfect peace, amen.