Comedian, Julius Agwu Returns to Nigeria, Bonds with Daughter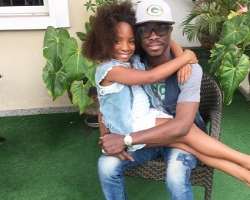 No matter how hard things might be in the country, Nigerians seems to still care for someone they truly admire like comedian, Julius Agwu.
Julius has been in a London hospital for a while now after falling ill during one of his concert in London and had since not stopped out.
While recovering, the comedian shared some photos to his fans that he is getting better while thanking them for their prayers and indeed, the prayers worked.
The comedian is now back to Nigeria where he hopes to resume work immediately as he shared a picture of himself bonding with his daughter Zahra in his home.