The hype: Nollywood hustlers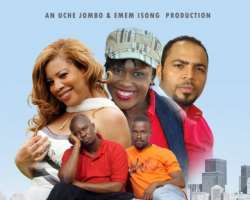 This is the place for you to leave a comment about any Nigerian movies you have seen. Recommend Movies. Give your own review of movies. Criticize a movie. Rate your favorite movies. New /Classic Movies.
As I mentioned in my last entry, the movies this year have been soooo bad that I have no incentive to review them. Its horrible. My reviews, when they return, will be of the older movies. Nothing good has come out of Nollywood this year, and it seems that with the exception of Shirley's movies, everything Ghana produces now seems to be soft porn! Na wah!
Luckily though, it appears that we have some decent movies to look forward to - one can only hope that they live up to the promise.
Today, we start with the satire/comedy Nollywood hustlers.
Uche Jombo ex mathematician (impressive huh?) executive produced this one, while Emem Isong produced it. Here is the synopsis of the movie:
"Elvis (Charles Inojie) and Lucky (Bishop) are two no-good-out-of-work hustlers who want to shoot a film. They enlist the help of Prince Adolphus Akabogwu (Ejike Asiegbu) to sponsor it and the pepper soup joint assistant Scholarstica (Uche Jombo) to feature. But how do they get the A-List actors, Monalisa Chinda and Ramsey Nouah (acting as themselves) to act without paying their exorbitant fee? They then come up with a brilliant plan that leads to severe consequences for the pair. 'Nollywood Hustler' is a satire on the film making process in Nigerian film industry that will leave you laughing from start to finish. Produced by Emem Isong and written by Bola Aduwo & Uduak Isong Oguamanam, it has Uche Jombo as the Executive Producer and features several stars in cameo appearances." Source
Interesting plot no? That is what I thought too, until I discovered that it is some kind of copy of the the Hollywood movie Bowfinger. Hmmmmmm! For the record, there is nothing wrong with remaking a movie if you acknowledge that it is a remake. So nollywood, take note!
I will admit that it does look funny, so I am looking forward to it.
The movie is apparently making the theater rounds in Naija. Hopefully its available on dvd soon.
Enjoy!